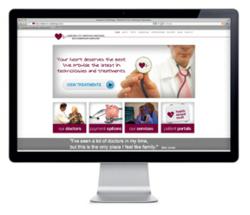 Our web presence has improved substantially with the help of Adhere's strong design and marketing team.
Houston, Texas (PRWEB) May 28, 2012
Representing the largest single group of cardiologists in Katy, Texas, Memorial City & Katy Cardiology Associates specializes in state-of-the-art care for heart patients. Their services encompass a wide range of treatments, testing, procedures and interventions that offer the benefits of advanced medicine in a caring, compassionate environment.
Five leading Houston cardiologists and a highly-trained staff of healthcare professionals give their patients the advantage of decades of experience in heart care. From their clinical research department to their nuclear imaging lab, Memorial City & Katy Cardiology Associates strives to be the care center of choice for Houston-area residents.
To that end, a recent decision was made by the group to improve their online image. After reviewing many options, the Cardiology Associates chose Houston marketing agency Adhere Creative to completely redesign their website to better reflect their growing practice and the services they provide.
A major goal of the redesign was to allow patients and prospective patients to more easily access information and engage with the doctors and staff. So, the team at Adhere analyzed the group's existing site, as well as the sites of competitors, to create an overall strategy that focuses on these objectives.
Through new and improved web design, marketing materials and graphic design elements, Adhere was able to give the practice's website a fresh look and feel. Convenient, user-friendly options make the site more functional for patients.
The addition of a company blog allows visitors to get information about a host of relevant health-related topics, and contribute comments and questions. The site also posts the latest Houston cardiology news, and a new patient portal offers a simple and secure way to book appointments, access personal health records, view lab results and more.
Nathan Yerian, Director of Strategy at Adhere Creative, believes that these improvements, the comprehensive new web strategy, and site redesign all reflect the unique qualities of the entire team at Cardiology Associates. "What separates these doctors from the herd is their caring and consultative approach. By providing a wealth of information on the website, we were able to build this differentiator into their web strategy."
Dr. George Mammen, MD, FACC, a 19-year team member at Memorial City & Katy Cardiology Associates, feels that the new web design will help the group keep pace with the needs of their patients as well as their own growth. "Our practice has grown markedly in the last few years with the help of our online presence. We felt that the best way to improve communication with our patients was to improve our appearance and accessibility online, which Adhere has done a wonderful job achieving. We now have a website that matches our advanced cardiology practice in West Houston."
The collaboration between Adhere Creative and Memorial City & Katy Cardiology Associates has proven to be a success, bringing together the expertise of a leading Houston marketing agency and leading health care professionals to create a site that is more accessible and functional for Houston heart patients. Neil Schmitz, Practice Manager & Director of Clinical Research comments, "Adhere has been incredibly professional and innovative with every aspect of our website re-design. Our web presence has improved substantially with the help of Adhere's strong design and marketing team. The process was well managed and organized from start to finish."
About Memorial City & Katy Cardiology Associates:
Since 1975, Memorial City & Katy Cardiology Associates has been serving patients in Katy, Texas, and surrounding communities. The group of five cardiologists and support staff offer advanced treatments and technology for the care of heart patients. Their physicians have privileges at Memorial Hermann Memorial City Hospital, Methodist West Houston Hospital, Christus St. Catherine Hospital, and Memorial Hermann Katy Hospital.
About Adhere Creative:
Adhere Creative, a Houston marketing agency, specializes in results-driven marketing initiatives for the Houston business community.