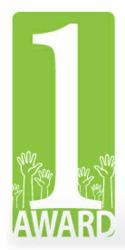 A brand image and website presence will give us a professional appearance needed to present our vision to other organizations and give us a higher degree of credibility
Houston, Texas (PRWEB) February 05, 2013
The Kylee Mendez Scholarship is this year's recipient of The One Award, an annual award program and competition sponsored by Houston marketing agency, Adhere Creative. The non-profit's prize is a brand identity and web design package courtesy of Adhere Creative.
Every year, Adhere Creative runs a program on its website where Houston area non-profit organizations are asked to enter an online form and answer what the organization brings to the community and how the award would positively affect its mission. The ultimate winner of The One Award receives preliminary market research, a logo design, stationary, business card, letterhead and envelope design and a customized website design. The program was designed to give back to the community by helping local non-profits deliver their messages more effectively through their marketing materials. 
The Kylee Mendez Scholarship is an organization awarding scholarship funds to children in need of financial assistance attending The Tenney School - a one-on-one teacher/student educational program in Houston for those students in need of more focused, individualized instruction. These students include those with academic challenges like ADD, ADHD, social anxiety or dyslexia, as well as academically gifted students who can advance quickly through the school's curriculum. Students who have been bullied and can benefit from a more compassionate setting are also accepted. 
"A brand image and website presence will give us a professional appearance needed to present our vision to other organizations and give us a higher degree of credibility," said Robin Burson, scholarship organizer for The Kylee Mendez Scholarship.  
Adhere Creative is a leading Houston marketing agency that specializes in web design, inbound marketing, brand development, search, content and social media marketing, lead generation and public relations.
"We believe that every child should have the opportunity to learn and that some need the opportunity presented in a different way," said Nathan Yerian, Director of Strategy at Adhere Creative. "We look forward to working with The Kylee Mendez Scholarship to develop an image that will impact the community." 
For more information on The Kylee Mendez Scholarship, please visit http://www.kyleemendezscholarship.org.
To learn more about The Tenney School, please visit http://www.tenneyschool.com.
Additional information on Adhere Creative, can be found at http://www.adherecreative.com.