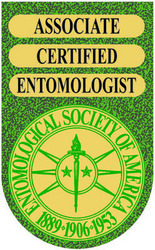 Advanced Pest Control is not your average pest control company
Stafford, TX (PRWEB) January 29, 2009
Richard Weisman, President of Advanced Pest Control, a Houston pest control company with over 25 years in business, has recently received certification by the Entomological Society of America. Weisman is one of only about 200 pest control professionals nationwide to have obtained this prestigious certification, and is very proud of the high honor that he has achieved.
Weisman sought the certification in order to solidify the credibility of his company and their pest control services. Associate Certified Entomologists must undergo a rigorous examination to demonstrate their proficiency with and understanding of the insects involved in structural and urban pest management and ascribe to a code of ethical behavior. In today's increasingly complex and highly-specialized economy, credentials are everything, and for many career-minded pest management professionals, certification is an enormous step in the right direction.
"Advanced Pest Control is not your average pest control company," says Weisman. "Now, our certification by the Entomological Society of America serves as proof."
The Entomological Society of America has long been the industry leader in certification. Launched in May of 2004, the ACE program is rapidly becoming the industry-standard for professionalism and training. Through its Board Certified Entomologist (BCE) program, they are able to offer a certification option geared specifically toward the pest management industry.
In addition, Weisman's Bachelor of Science in Biology combined with his Certification in Entomology provides added assurance to clients of the competency and dedication to education and training that is expected of all of the Houston pest control company's employees.
"At Advanced Pest Control, we employ only highly trained and credentialed employees," says Weisman. "As President, I try to be an example and to practice the things that I preach."
Within the entomology field there are many ways that a person can specialize their training. Some study insects' impact on crop yields, some study the medical impact they have on humans and other animals, and still others focus on ways to limit the damaging influence that insects can have on the population. Similarly, Advanced Pest Control's pest control services cover a variety of pests, and they are capable of meeting even the most stringent customer requirements.
For more information on Advanced Pest Control and their pest control services, visit the Advanced Pest Control website.
About Advanced Pest Control:
From bats in the belfry to snakes in the grass, Advanced Pest Control Service Professionals have been solving pest control problems for customers since 1965. Advanced Pest Control is one of the largest family-owned and operated pest control companies in the Houston area and is backed by staffed biologists and entomologists as well as experts from leading universities. For a free evaluation, visit AdvancedPest.com.
###