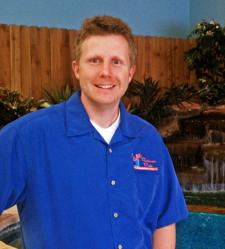 I plan to provide all of Redman Pools' customers with the customer service they deserve.
Houston, TX (PRWEB) April 05, 2012
When it comes to building a luxury pool, customers want more than cost efficiency. They want top-notch service, professional builders and at the end of it all, the kind of in ground swimming pool that they will enjoy for years to come. This is the type of experience Redman Pools has provided Houston area customers, and they plan to make it even better. Redman Pools has brought new Construction Manager Sean Herbold on board to help ensure that their reputation for excellence in pool building carries on as they seek to expand their reach.
The staff at Redman Pools has more than half a century of combined swimming pool design and construction experience. They are a well-recognized name in the Houston area. Redman has seen incredible growth in the last several years thanks to highly ranked customer service.
Redman Pools' Founding Partner, Mike Redman says, "We are very pleased with our company's expansion in recent years and want to continue our growth into nearby markets. Now that we have Sean on board, I'm confident we will see our reach increase and that our customers will continue to be thrilled with the high level of customer service we provide."
"I am proud to call myself the Construction Manager at Redman Pools," says Sean. "This company put together a very strong team, and I look forward to working with everyone here." Sean also states that he looks forward to working closely with customers. "I plan to provide all of Redman Pools' customers with the customer service they deserve. Customers should not only feel like they got a fair price, but that they got a beautiful backyard from a company they know they can trust because we took care of them before, during and after the sale."
Jay Bellar, Redman Pools' Managing Partner says, "We know that swimming pool cost is of great importance to our customers. Sean has a history of bringing down the cost for customers while making sure they still enjoy the experience." Bellar went on to say that the entire team is looking forward to welcoming Sean and seeing what he can do. "I'm truly excited to have someone come in with a fresh perspective to manage our growth over the next several years."
Sean has an MBA from University of Notre Dame and a Business Administration degree from St. Edwards University. As Construction Manager, Sean hopes to help the company reach out into new markets, and ensure that the cost of swimming pool stays low, while customer satisfaction stays high. Sean says, "Redman Pools customers already love us. You can tell from the testimonials and swimming pool photos they regularly share on our website. What I want to do is bring on more customers who are thrilled with the personal touch we provide."
About Redman Pools
Redman Pools is a full service pool builder servicing the southeast Texas area. As a custom pool builder they can meet all of your swimming pool and spa construction needs. They offer custom designs and budget friendly pools that meet virtually everyone's desires. Redman Commercial expanded by adding a residential division in 2009. They have put together a knowledgeable team that brings decades of combined swimming pool experience to meet their customers demands.
Redman Pools is located at 10110 W Sam Houston Parkway N. Suite #210; Houston, TX 77064. For additional information, contact Ivonne Tostado - Ivonne(at)RedmanPools(dot)com, 281-469-0581.