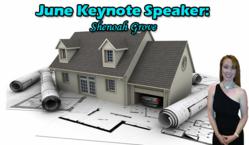 Houston, TX (PRWEB) June 18, 2013
The Houston Real Estate Investment Association (Houston REIA) is set to host its inaugural meeting on Tuesday, June 18, 2013. The Houston REIA will have two meetings: one in the afternoon and one in the evening. For more information about the Houston REIA, please visit http://reiahouston.com/meetup/
The Afternoon Houston REIA Meeting information is as follows:
> Time: 12:30 - 2:00pm
> Location: Quest IRA - 17171 Park Row Ste 100, Houston, TX, 77084
The Evening Houston REIA Meeting information is as follows:
> Time: 6:00pm - 9:00pm
> Location: Marriott Houston by the Galleria / 1750 W. Loop S. Fwy, Houston, TX, 77027
The keynote speaker will be Club President Shenoah Grove. Mrs. Grove is a Texas real estate investor who is also President of the largest real estate networking club in Austin (Austin RENC). Since 2003, Mrs. Grove has participated in more than 1,200 real estate transactions totaling more than $200M using a variety of investing techniques.
At the inaugural meeting, Mrs. Grove will be discussing a variety of negotiation techniques in this interactive workshop presentation.
"What we'll do is go through a live negotiation with a seller (Mrs. Grove) and a buyer (guest) to show everyone what questions to ask and how to think through and negotiate a deal," says Mrs. Grove. "We perform this 'drill' during many of our live trainings and it's very popular with our students. I am excited to see how this interactive workshop works during our club meeting."
Tickets to the Houston REIA are free and you can register by going here: http://reiahouston.com/meetup/ and filling out your name and email information on the top right side of the website.