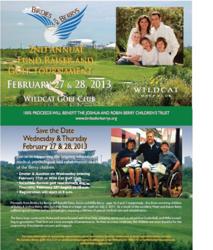 We specialize in risk management and in making sure people are protected for a living—but there are some events that one can never predict. We are honored to support this event for the Berry Children's Trust. ~Frank Karkowsky
Houston, TX (PRWEB) February 21, 2013
Houston risk management firm Pasadena Insurance Agency has teamed up with the Second Annual Birdies for Berrys Golf Classic—an event to raise money for the Joshua and Robin Berry Children's Trust at Wildcat Golf Club.
This is the second year for the two-day fundraiser, which opens on Wednesday, February 27 with a dinner and auction featuring offerings from some of Houston's best restaurants including China Garden, Del Friscos, Flemings, 360 Sports Lounge, Taste of Texas, Little Daddy's Gumbo Bar, Beef and Bun BBQ, Pinkberry, Local Loven and more.
The golf classic and $1 million hole-in-one contest, sponsored by Pasadena Insurance, will be held on Thursday, February 28.
"It is important for us to stay involved with and be a resource for our community," said Frank Karkowsky, president of Pasadena Insurance. "We specialize in risk management and in making sure people are protected for a living—but there are some events that one can never predict. We are honored to support this event for the Berry Children's Trust."
Peter, Aaron and Willa Berry are the young children of the deceased Robin and Joshua Berry who tragically lost their lives in a July 2011 car crash in west Texas. The three children are living in Houston, recovering from injuries sustained in the accident.
The two boys, Peter and Aaron, sustained severe spinal cord injuries and are both paralyzed from the waist down. The Berry's daughter, Willa, has recovered from less-serious injuries and continues to make progress in her adjustment to losing her parents.
Last year, more than $170,000 was raised for the Joshua and Robin Berry Children's Trust.
For more information on the Birdies for Berrys golf classic or to register, see http://www.birdiesforberrys.org or contact birdiesforberrys(at)gmail(dot)com.
For more information about Pasadena Insurance Agency, visit http://www.pasins.com. Also, join our Facebook community and connect with us on Twitter @PasadenaInsAgcy.
About Pasadena Insurance Agency:
Pasadena Insurance Agency, Inc (PIAI) is a Trusted Choice® independent insurance and risk management firm. They are a third-generation, family-owned, boutique independent insurance agency offering property & casualty insurance, life & health insurance, and consultative risk management services to individuals and small-to medium-sized businesses.
Having been in business for over 75 years, they have access to the majority of the insurance marketplace either through direct appointments or intermediaries resulting in the appropriate alignment of insurance carrier to clients. PIAI offers a friendly, community-based agency with personalized customer service, while also providing the capabilities of a large corporate agency with established industry relationships and decades of experience. For more information, please visit http://www.pasins.com.