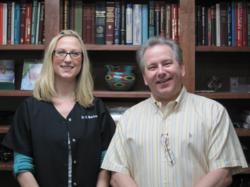 HOUSTON, TEXAS (PRWEB) December 03, 2012
Greenspoint Dental announces the addition of Zoom! Teeth Whitening to its Houston cosmetic dentistry offerings.
Zoom! Teeth Whitening is a revolutionary teeth whitening procedure that can brighten teeth up to eight shades whiter after a single visit. The Zoom! method is proven to give patients a bright and beautiful smile.
The procedure lasts for one hour. When a patient comes to Greenspoint Dental for teeth whitening, a staff member applies a whitening gel to the surface of the patient's teeth and shines a special light on the teeth to activate the gel's whitening potential.
The whitening results of Zoom! Teeth Whitening are instantaneous and Greenspoint Dental guarantees the results.
"Zoom! is a great way for patients to whiten their teeth without the hassle of ineffective and time-consuming whitening strips," said Dr. Louis Bosse, the lead dentist at Greenspoint Dental. "Because the results are instantaneous, we especially recommend Zoom! to patients preparing for a big event, such as a wedding or photo session."
Greenspoint Dental recommends Zoom! whitening for patients needing immediate results, but also touts the procedure for its long-term teeth whitening. Patients interested in Greenspoint Dental's new Zoom! Teeth Whitening procedure should contact Greenspoint Dental soon because appointment times for this revolutionary teeth whitening treatment are filling up quickly.
About Greenspoint Dental
Greenspoint Dental is a family dental practice that has been operating in Houston for the last 15 years. Dr. Louis Bosse, the lead dentist at Greenspoint Dental, provides general, cosmetic and restorative dentistry to his patients. His associate, Dr. Kari Blankenship, provides dentistry services to patients of all ages, but particularly enjoys working with younger patients.
###