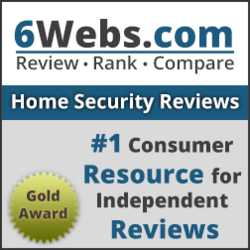 Compare the leading home security system providers online at 6Webs.com.
Houston, TX (PRWEB) June 18, 2013
6Webs.com has informed thousands of buyers on what to look for when picking out a home security monitoring provider. The simple to read reviews and detailed comparisons make 6Webs.com the resource consumers' favor for unbiased and independent home security reviews. 6Webs.com just recently finished conducting their assessments of the leading security system companies in Houston, TX. On a yearly basis the 6Webs.com team travels from state to state completing evaluations of the home security system companies which do business in each state. Ranking each security system company involves carefully reviewing their customer satisfaction and business ratings in addition to equipment and monitoring.
http://www.6webs.com/home-security-systems-reviews/
There are 25,674,681 residents that call Texas home. There are 891,499 property crimes every year according to the latest FBI Uniform Crime Report released in 2011. Residents of Texas have security and safety on their mind and now have an independent source to help them purchase the best home security alarm system for their household. The most significant aspects when thinking about a home security systems provider to Texas residents had been customer service and price.
Tim Smythe from 6Webs.com stated, "Numerous Houston residents who were questioned communicated that their family would definitely take advantage of a home security system. The theme that was apparent with many home security shoppers was that they did not know what features to compare or where to begin. This is actually the major reason why 6Webs.com releases the home security reviews in each state."
FrontPoint Security was awarded as the top alarm system company in Houston, Texas. FrontPoint Security provides home security services throughout the United States and Canada by furnishing their customers with wireless home security equipment from GE Security. FrontPoint Security's ability to maintain an excellent customer service rating coupled with their cutting-edge technology has made them a favorite amid Texas consumers.
6Webs.com discovered that mobile features were a significant deciding factor when Texas consumers were selecting a home alarm system. Security companies like ADT Security offer customers mobile access to remotely arm and disarm the burglar alarm system everywhere there is an Internet connection. Some Texas homeowners stated they would take advantage of the services that allow for streaming of wireless home security cameras directly to an iPhone or Android device. Texas consumers can compare the features of the top rated home security providers online at:
6Webs.com - Best Security Systems
About 6Webs.com
6Webs.com is devoted to supplying buyers with the best alarm system information available. Shoppers can instantly compare the leading home security alarm system companies on 6Webs.com to help them choose the best security system for their family. 6Webs.com also released educational information about safety and security on their home security blog. Visit 6Webs.com for the latest information about who's popular and who's not in the home security industry.