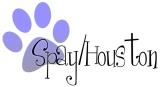 This award will help us achieve our goals, and will prevent so many unwanted litters entering into our community's animal shelters.
Houston, Texas (PRWEB) January 16, 2012
As part of their community outreach initiative, Houston web design company Adhere Creative has established The One Award, which grants a no-cost branding makeover to one local non-profit each year. After considering many entries submitted by deserving charitable organizations, the team at Adhere has chosen Spay/Houston as their 2012 winner.
The winning entry was chosen based on its mission, its value to the community and the need for marketing assistance to carry out its vision for the future. Deana Sellens, Director of Spay/Houston, feels that being given this opportunity will greatly enhance the organization's ability to fulfill its mission:
"Opening Spay/Houston has been a massive undertaking for us. We have been lacking in marketing talent which has been a major issue in growing the clinic to its true potential. This award will help us achieve our goals, and will prevent so many unwanted litters entering into our community's animal shelters. The impact will be absolutely astounding!"
In her entry for The One Award, Ms. Sellens described her organization and its commitment to the welfare of Houston's animals. "We have managed to pull off what no other shelter (even the big, well funded guys) has done here in Houston. That is, we have opened a high volume spay and neuter clinic."
"The clinic opened almost 2 years ago and we have already performed over 15,000 sterilization surgeries. Since Houston is #2 in the nation (second only to San Antonio) for killing animals in our shelters, we are looking forward to our clinic making a big impact on our community."
Regarding the need for new branding for her animal shelter, courtesy of Adhere Creative, Ms. Sellens says, "The clinic has been slow to take off due to the lack of advertising knowledge and funds. We only need to increase our volume from 30 surgeries per day to 50 and we can hire a second vet. This would increase our revenue while our expenses would stay about the same. This increase in revenue will go toward improvements on our shelter and free surgeries for people on public assistance".
In addition to receiving the prize of a no-cost rebranding from the marketing specialists at Adhere, Spay/Houston will be working with local business coach Mike Rager with ActionCoach, who is donating six months of group coaching to assist the non-profit in forming a solid business strategy for the future.
Their proactive approach to solving the problem of pet overpopulation and their commitment to better serve Houston communities now and into the future made their application stand out. For Nathan Yerian, Director of Strategy at Adhere Creative, the decision to offer The One Award to Spay/Houston was the right one. "It was hard to make a final selection. There were so many qualified and worthy non-profits that applied. In the end, we selected Spay/Houston because of their unique mission, and clear vision for the future. It is going to be a great experience working with Deana over the next few months to completely redevelop the Spy/Houston brand"
Adhere Creative, a Houston web design, branding, and inbound marketing agency, specializes in results-driven marketing initiatives for the Houston business community.
###