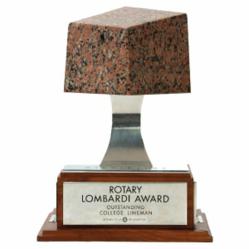 "[The website] looks fabulous and I'm excited to have the site launched."
Houston, TX (PRWEB) October 12, 2012
The Rotary Lombardi Award goes annually to the college football lineman — offense or defense — who, in addition to outstanding performance and ability, best exemplifies the discipline of Vince Lombardi.
Nearly 400 of America's most prominent college football coaches, football writers, sports broadcasters and previous Rotary Lombardi Award winners and finalists, participate in a three-tiered balloting process. Four finalists, their head coaches, and sports information directors are brought to Houston for two days of hospital visits and media interviews before a sellout crowd gathers to hear the announcement of the winner prior to its release to the national media.
As you can imagine, the traffic coming to the Rotary Lombardi Award website requires an effective and beautiful design to convey the same significance the 40-pound trophy has on the collegiate and NFL community.
Determined to reflect the high caliber of the award online as it is recognized in the offline world, the Rotary Club asked Houston web design company, Adhere Creative, to give a complete website overhaul for the Rotary Lombardi Award. "Adhere is proud to have been selected in the redesign of the new Rotary Lombardi Award website," says Daniel Vaczi, Adhere Creative's Director of New Business. "The redesigned website breathes new life into the prestigious award online. We have no doubt that this new web property will bring forth deeper recognition to the Rotary Club, American Cancer Society, the finalists, sponsors and the Rotary Lombardi Award itself."
The new full service website allows a visitor to find out more information on the award, purchase tickets, donate to the cause benefiting the American Cancer Society, become a sponsor, view current finalists and previous award recipients, and much more.
Steve Vetrano, head of the Rotary Lombardi Award committee and CEO of the American Red Cross - Texas Gulf Coast Region asserts, "[The website] looks fabulous and I'm excited to have the site launched."
Adhere Creative is pleased to be a sponsor of this year's Rotary Lombardi Award. The new Rotary Lombardi Award website is located at http://www.rotarylombardiaward.org.
About Adhere Creative
Adhere Creative is a Houston web design company that offers web design, search engine marketing, content marketing and other inbound marketing services. Adhere specializes in results-driven marketing initiatives.
About The Rotary Lombardi Award
The Rotary Lombardi Award is hosted by the Rotary Club of Houston and benefits the American Cancer Society. The Award was initiated by the Rotary Club in 1970 shortly after the death of Vince Lombardi to cancer. Rotary Lombardi Award is a member of the National College Football Awards Association.