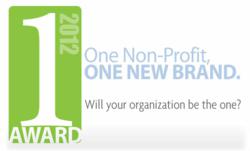 ...these organizations give so much to the greater Houston area and we are looking forward to giving back to them."
Houston, TX (PRWEB) December 21, 2011
Recently, Houston web designers Adhere Creative announced the launching of The One Award, which offers one local non-profit per year the opportunity to win a complete branding makeover including an updated website design, new logo and marketing materials.
As 2011 draws to a close, the team at Adhere Creative is now announcing "last call" for entries to receive this valuable prize, and get a free branding makeover in 2012.
All Houston-area non-profits interested in this prize must submit their entries soon. No entries will be accepted after 11:59pm on December 31. The first few weeks in January 2012 will be used to review entries and contact all non-profits that are being considered. Final selection will happen in mid-January.
As part of their commitment to community outreach, Adhere Creative supports local non-profit (501c3) organizations. The One Award is an expansion of their efforts to help these organizations maximize their potential through improved marketing and branding. With a fresh look for their websites and marketing materials, custom-created by professional Houston web designers, these organizations can better serve those area residents most in need of their help.
The branding experts at Adhere Creative will work with the winner to address their marketing issues and find the best solution. The prize includes:

research into the organization
a fresh new logo
custom website design
redesign of printed materials
This is a rare opportunity for local Houston-area non-profits to get a no-cost rebranding and start the new year with a more effective site design, an updated logo and a fresh look for their stationary, envelopes and letterhead.
All local non-profits are encouraged to enter to win this valuable prize. Past charitable donations of time and resources by the expert Houston web designers at Adhere Creative have resulted in two local non-profits getting amazing branding makeovers, at no cost to them. The team at Adhere Creative is confident that the winner of The One Award will enjoy similar results.
Nathan Yerian, Director of Strategy, says, "We have had a lot of entries from non-profits that are adding a lot of value to the community. The individuals in these organizations give so much to the greater Houston area and we are looking forward to giving back to them."
The brand identity for any organization has the potential to attract an audience, build trust and showcase value of the organization. The team at Adhere Creative believes that this award can give non-profits, who lack the resources often available to for-profit companies, the same opportunity to showcase their value.
Any organization that is interested in submitting an entry for The One Award may fill out an online application (http://www.theoneaward.com). Applicants will be asked to describe the organization's mission and how they think The One Award will positively affect that mission. Only Houston-area non-profits will be considered.
Adhere Creative, a Houston web design, branding, and inbound marketing agency, specializes in results-driven marketing initiatives for the Houston business community.
###