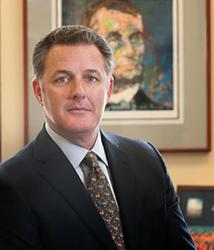 Clearly, we need to make sure we have good laws in place, that the laws are enforced and that construction companies do everything possible to create a safe workplace for their employees.
Houston, TX (PRWEB) May 10, 2013
Contractors, lawmakers and regulatory authorities must take steps to make Texas construction sites safer places to work, Houston workplace injury lawyer Kevin Krist said today in response to a new study that showed Texas has the nation's worst record when it comes to construction accident deaths.
"While construction has always been a notoriously dangerous industry, jobsites in Texas are particularly dangerous when compared to other states. Too many hardworking individuals are getting injured or killed just because they are trying to earn a paycheck," said Krist, founder of The Law Office of Kevin Krist. "Significant measures must be undertaken to save lives and prevent injuries."
Krist cited a recent report from Workers Defense Project and the University of Texas - Austin, which stated that Texas construction workers have an accidental death rate twice that of their counterparts in California. The study, released in January, reported that the construction industry in Texas had 10.7 deaths per 100,000 workers in 2010. The overall rate in the United States for the same year was 8.8 per 100,000 workers.
The study, "Build a Better Texas," also reported that between 2003 and 2010, construction jobs accounted for about 6 percent of the workforce in Texas but accounted for 26 percent of total workplace fatalities.
"This is one thing Texas should not want to be No. 1 in," Krist said. "A death rate that high calls for drastic action. Clearly, we need to make sure we have good laws in place, that the laws are enforced and that construction companies do everything possible to create a safe workplace for their employees."
The study also points out that 1 in 5 Texas construction workers require hospitalization because of injuries sustained on the job. The study was cited in an April 10 NPR article entitled "Construction Booming In Texas, But Many Workers Pay Dearly."
"Hospitalizations are very costly, in terms of pain, suffering, lost wages and quality of life, as well as monetary tolls," Krist said. "Twenty percent of construction workers ending up in our state's hospitals is simply way too high a number and it shows Texas jobsites simply aren't safe."
In addition, the study reports that Texas is the only state in the nation without mandatory workers' compensation insurance. While construction workers make up roughly 6 percent of the workforce, hospital data suggest they account for nearly 20 percent of work-related uncompensated care costs in Texas emergency rooms, according to the study.
"Without workers' compensation to cover bills for injured construction workers, taxpayers and hospitals often end up bearing the cost when workers, many of whom may not have adequate health insurance, are hurt," Krist said. "That's an unfair and unnecessary burden, especially in these hard economic times."
According to the report, Texas also lacks a state Occupational Safety and Health Administration (OSHA) law to supplement the federal OSHA program. The state has one OSHA inspector per 103,899 workers compared with one OSHA inspector per 52,416 in California, for example.
"Things have to change," Krist said. "The hardworking people of Texas deserve better. It's time for Texas to get serious about worker safety and workers' rights."
Krist urged injured Texas construction workers and the families who have lost loved ones in construction accidents to consult a qualified personal injury lawyer like his firm's.
"At The Law Office of Kevin Krist, we have the experience to fight for people injured in the workplace and get them the compensation they need and deserve," he said.
About The Law Office of Kevin Krist
The Law Office of Kevin Krist is a Houston personal injury law firm dedicated to protecting Southeast Texas residents who have suffered catastrophic injuries in serious and tragic accidents. For more than 25 years, the firm has represented clients in personal injury and wrongful death claims involving auto and truck accidents, aviation accidents, business litigation, catastrophic injury, defective products, explosion or burn injuries, maritime injuries, medical malpractice, spinal injury, traumatic brain injury and workplace accidents. The firm serves accident and injury victims throughout Houston, Harris County, Pasadena, Katy, Baytown, League City and surrounding areas. The firm's office is located 3401 Allen Parkway, Suite 102, Houston, TX 77019. To learn more about The Law Office of Kevin Krist, call (281) 677-3959 or use the firm's online contact form.