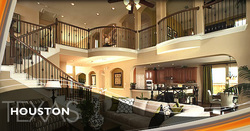 Houston, TX (PRWEB) June 15, 2010
Ashton Woods Homes, a premiere builder of eco-friendly and energy-efficient new homes, today announced that they had beaten their own projections for growth and increased sales more than 25% over the previous fiscal year and remain prepared to meet any buyer's move-in schedule this summer.
"We're 102% of our Net sales objective, up more than 25% over fiscal 2009, and 107% of our closing objective, up more than 34% over fiscal 2009. This is following a great sales year form fiscal 2009 where we had a 46% increase in sales over fiscal 2008," explained Mr. Dan Gezella, Vice President of Sales and Marketing for Ashton Woods.
Headquartered in Atlanta Georgia, Ashton Woods builds high-performance new homes in growth communities in Houston, Atlanta, Austin, Dallas, Orlando, Phoenix, Raleigh and Tampa. Close to jobs, shopping and transportation corridors, Ashton Woods effectively balances healthy-house features with energy efficiency in their Power House Green homes – which can save homeowners as much as 45% per year on utility bills.
In each of its eight Houston-area communities, Ashton Woods is offering eco-friendly homes dozens of ready-to-build designs.
With prices starting in the $140,000s, in Katy's Willow Creek Farms, to base pricing beginning in the $350,000s in Fort Bend's Riverstone. Cross Creek Ranch in Fulshear, Sienna Plantation in Missouri City, Treeline in Tomball, Mission Sierra in Richmond and Pearland's Southern Trails, all offer eco-friendly and energy-efficient new homes. Plus, Ashton Woods has now opened a model home in Humble's Eagle Springs, the builder's newest community with base pricing in the $180,000s.
In addition to traditional single-family homes, Ashton Woods also offers amenity-rich garden homes as large as 3,300 square feet in four communities: Southern Trails, Cross Creek Ranch, Sienna Plantation and Treeline. Several structural options allow homebuyers to customize their choices.
All homes — regardless of price or style — are built to Ashton Woods' Power House Green standard, providing new homeowners with unprecedented saving on energy use.
"Ashton Woods has remained on the forefront of energy-efficient building initiatives," said Mr. Gezella.
"Our homes are built to a high energy-efficiency standard that saves homeowners a substantial amount of money, even when compared to a home just 10 years old. Our research shows it would take nearly $50,000 to bring an existing home to our energy-efficient level and that's just for the items that could be addressed," added Mr. Gezella.
For more information about Ashton Woods Homes, visit online at http://www.ashtonwoodshomes.com/houston.
About Ashton Woods Homes
One of the Great Gulf Group of Companies, Ashton Woods offers the accessibility, accountability and hands-on customer service of a local home builder with the experience, resources and financial strength of an international firm. Over the past 40 years, Ashton Woods has become known for designing versatile, energy-efficient homes priced from the $100s to the $300s. Now building in 8 of Houston area's most well-located communities, the company is a Gold Level Environments for Living™ and Energy Star® builder, ranked 1st place in the 2009 J.D. Power Survey for New-Home Builder Customer Satisfaction Ranking and is honored with the most coveted local, regional and national awards.
###