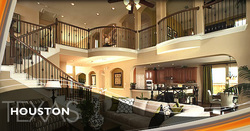 "The fact that our contingency sales are up from this time last year by 330% and our sales from those contingencies are double the norm for us, tells me that homebuyers are taking advantage of the historic opportunities to buy a new home."
Houston, TX (PRWEB) December 15, 2009
Ashton Woods Homes today announced that it's Houston division is converting 80% of its contingent sales - double the typical amount.
Ashton Woods Homes is a premiere builder of eco-friendly and energy efficient new homes in the Houston metro area and offers new home designs in eight communities in and around Houston.
Previously this year, Ashton Woods Houston reached its fiscal first quarter sales goals by demonstrating a 330% increase in contingency sales over the same period last year.
"Three months ago, contingencies that were written were up 350% and now 80% are converting to a solid sale,' stated Dan Gezella, vice president of sales and marketing for Ashton Woods. "The fact that our contingency sales are up from this time last year by 330% and our sales from those contingencies are double the norm for us, tells me that homebuyers are taking advantage of the historic opportunities to buy a new home," added Gezella.
Base pricing for a new Ashton Woods home ranges from the $120,000s to $410,000s. The builder has earned several coveted industry awards, including the Greater Houston Builders Association's Builder of the Year and Grand Award, a Texas Star Award, a Silver Award from The Nationals and most recently was ranked 1st place in the 2009 J.D. Power Survey for New-Home Builder Customer Satisfaction Ranking.
In addition to Houston, Ashton Woods also builds new homes in Dallas, Atlanta, Tampa, Orlando and Phoenix. For more information, visit http://www.ashtonwoodshomes.com.
About Ashton Woods Homes
One of the Great Gulf Group of Companies, Ashton Woods offers the accessibility, accountability and hands-on customer service of a local home builder with the experience, resources and financial strength of an international firm. Over the past 40 years, Ashton Woods has become known for designing versatile, energy-efficient homes priced from the $100s to the $300s. Now building in 8 of Houston area's most well-located communities, the company is a Gold Level Environments for Living™ and Energy Star® builder, honored with the most coveted local, regional and national awards. Ashton Woods is also the developer of Southern Trails in Pearland, Texas.
###