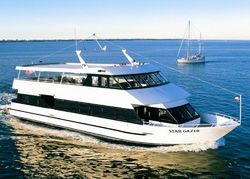 Our wedding yachts provide an exciting alternative to traditional Houston wedding sites and locations.
Kemah, Texas (PRWEB) May 24, 2008
The number of Houston wedding cruises sold for the first four months of the year was up 65% over the same period last year at Star Fleet Yachts in Kemah. "I believe that with a tough economy, brides are driven more than ever to seek value and convenience." said Tom Lober, Star Fleet's President and Marketing Director.
The themes of "value" and "convenience" have been the focus of Star Fleet's bridal marketing effort over the past few years. As a result, couples may choose a convenient all-inclusive Wedding Package then receive a thirty page Wedding Planning Guide and a Wedding Coordinator to assist them with the various activities on their special day. "As Mother of the bride, it was much less stressful for me, as Star Fleet did all the work." said Debbie Satterlee whose daughter recently got married aboard a Star Fleet Yacht.
This strategy has paid off for Star Fleet who has seen their wedding sales skyrocket recently. "Our wedding yachts provide an exciting alternative to traditional Houston wedding sites and locations." says Lober. "We provide a unique wedding experience you can't find any where else and brides who have researched the market realize the incredible value that wedding yachts offer".
Star Fleet offers an afternoon and an evening wedding package as well as customized weddings for couples who want to pick and choose from various options. "Our goal is to save brides time and energy by bundling the most popular wedding features over the years into one convenient package. It not only saves brides the headache of having to piece together their cruise but it is much easier for our sales staff as well.
The Gold Afternoon Wedding Package includes a three hour wedding cruise with an additional half hour prior to the cruise for the wedding ceremony to be preformed by the Captain of the yacht. Prices start at $65 per guest and include the cruise, lunch and a beverage service along with the basic items chosen by most brides.
Star Fleet offers the Platinum Evening Wedding Package with prices starting at $99 per guest. This four hour wedding cruise is popular on Saturday nights and includes heavy hors d'oeuvres, complementary beer, wine and champagne along with a host of premium cruise options.
Cruising into the sunset on your own private yacht is an experience you can't get anywhere else. One of the benefits of having a yacht wedding is that the ceremony and reception are at the same place. Guests do not have to drive from one location to the next and they certainly can't leave the party early. There is nohing like cruising past the Kemah Boardwalk on the bow of your wedding yacht as thousands of visitors cheer you on and congratulate you on your special day. For those wanting even more excitement, Star Fleet recommends classy white Mardi gras beads to toss at the spectators on shore.
About Star Fleet Yachts
Star Fleet Yachts in Kemah, Texas has four yachts that are used for corporate events, Houston weddings and special occasions. They also offer Kemah dinner cruises - where individuals may purchase tickets for cruises on public holidays and for special events. Star Fleet is one of the largest and oldest private charter yacht companies on the Gulf coast.
###