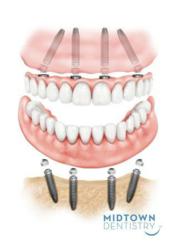 when losing teeth- replacement is almost always immediate -says Dr. Penchas
Houston, Texas (PRWEB) October 15, 2012
"I'm having nightmares about losing my teeth " - As an expert dentist, Dr. Penchas hears patients describe their fears of tooth loss daily.
In the past, losing your teeth meant running around toothless, wearing dentures and basically being degraded and miserable. This is common, with 29% of adults 50 years old wearing some sort of denture. And with an aging population, a majority of people will end their life without teeth.
The waiting period for dental implant bridges after losing teeth was usually four to six months. It took that long before the implants were strong enough to place teeth on them. That meant close to half a year of dentures and misery. But new solutions, like the ones used by Dr. Jonathan Penchas at Midtown Dentistry in Houston, Tx are changing the face of dentistry.
New dental implants that have improved adhesion to bone, as well as new bridge techniques have eliminated these problems for many people.
With the new implants and techniques, a person can have the teeth removed and new implants and teeth replace the missing teeth on the same day.
Done by dentists who are specialists, this procedure, while not for everyone, is very safe fast and successful. Dental implants are the most successful implant used in medicine, with success rate in the high 90%.
Safety? with modern x-ray, CT scan and planning, the risk of serious nerve damage or failure are at a new low.
Pain? Thanks to modern sedation, the patient is asleep through the process. Pain is minimal and healing is just a few days, with immediate great looks and function.
The cost? around $25,000 per jaw - for a new sparkling set of teeth. This is more cost efficient than crowning the teeth, has less complications and lasts longer. And prices will continue to drop over the years as the technique gets simpler.
Insurance coverage? In Europe many dental insurance companies cover dental implants. In the US, only a very few insurance companies cover them, since employers want to keep their costs down. They are usually covered only when an accident, cancer or a birth defect have caused the loss of teeth or function.