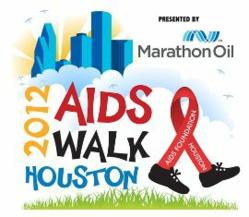 Houston, Texas (PRWEB) March 30, 2012
The team from Houston Texas Consulting came together and participated in the 23rd annual AIDs Walk Houston. AIDS Walk Houston is an exciting, non-competitive event that increases community awareness and educates Houstonians about HIV/AIDS.
http://www.aidshelp.org/site/TR?team_id=21060&fr_id=1180&pg=team
AIDS Walk Houston 2012, presented by Marathon Oil, is a community-wide event that attracts thousands of Houstonians each year. The Walk is produced by AIDS Foundation Houston, Inc. and proceeds benefits local AIDS Service Organizations striving to make an impact in the fight against AIDS while providing vital social services to Houstonians living with HIV/AIDS.
AIDS Foundation Houston, Inc. (AFH) was founded in 1982 as Texas' first organization dedicated to HIV education and services. The mission of AFH is to create positive social impact through the innovative management of HIV/AIDS and other chronic illnesses. AFH has steadily evolved from a grass-roots community agency to a professionally managed human services organization that provides many services including benefits and resources, counseling, case management, housing, food and nutrition assistance to low-income, HIV+ men, women, and children.
Houston Texas Consulting raised $960.00 to support the AIDS Foundation. From all of us here at HTC, we would like to express our thanks to all those that helped us support a great cause.
About Us:
Website: http://www.houstontexasconsulting.com/
Facebook: http://www.facebook.com/HTC.Tx
Wordpress: http://www.houstontexasconsultingblog.com/
Houston Texas Consulting is a leading sales and marketing company in the business-to-business market. Indirect channels of marketing, such as TV ads, radio ads, and direct mail, have created a personal gap between the product and the business consumer. Our firm bridges this detrimental gap by building lasting relationships through in-person contact with businesses. When compared to other forms of marketing, the benefits are invaluable.
Through the use of courteous, professional, and service-specific presentations we create a positive and lasting impression. Our approach enhances brand loyalty, which translates into increased revenues and long-term success.
Most organizations are built on an every-man-for-himself model. Even in a large company, everything is a solo deal. We are different. We know that teamwork pays off. No one succeeds alone. We know that our success is dependent on finding and developing solid team players. That is why we focus our own recruiting on identifying those with the inherent qualities to succeed: discipline, commitment, character, and personality. We look for the right type of person (who may or may not have experience), and then introduce personal and professional leadership principles to further their career. The result is success, and for a simple reason: our employees are continuing to learn and grow. If you're the kind of ambitious, energetic, charismatic pro we believe you are, you can be very successful here.