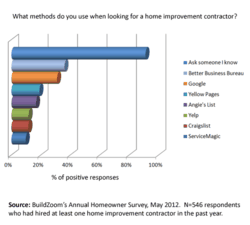 Los Angeles, CA (PRWEB) May 21, 2012
Today, BuildZoom announced results from their first annual survey of US homeowners. The research initiative was undertaken to better understand consumer habits and perspectives with regard to hiring home improvement contractors.
Part 1 of the initiative explored the various methods that homeowners employ when looking for a home improvement contractor. There were several key findings:
1. The Better Business Bureau (BBB) ranked as the most popular destination for consumers, ahead of the Yellow Pages, Angie's List, Yelp, Craigslist and ServiceMagic.
2. Consumers who reported high levels of dissatisfaction with home improvement contractors were more likely to use the Yellow Pages or Craigslist than consumers who reported high levels of satisfaction.
3. Consumers who had hired 4+ contractors in the past year were more likely to use the BBB to locate home improvement contractors while consumers who had only hired 1 contractor in the past year were more likely to use review sites like Angie's List or Yelp.
Further research and visual representations of the findings are available on the BuildZoom blog, where subsequent findings from the research initiative will also be shared.
Research Methodology
The survey results are based on a non-random, opt-in, online sample of 546 consumers who reported hiring at least one home improvement contractor in the past year, recruited via email invitation from the BuildZoom homeowner database.
About BuildZoom
BuildZoom empowers homeowners to make better hiring decisions by providing them with a simple and effective way to find the best service provider for their next job. BuildZoom uses a Big Data approach that analyzes over 1.8 million remodeling contractors in the US against a broad set of quality indicators such as their license status, BBB ratings, consumer feedback and more. Each contractor is given an independent rating that determines their placement on BuildZoom.com, where consumers can freely browse and search to find the right service provider for their next job.