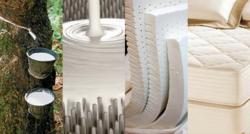 Eugene, OR (PRWEB) May 02, 2013
As consumers continue to seek out healthier products due to increased awareness of chemicals used in the home, including many types of bedding, many have begun to investigate alternatives such as latex mattresses. The Mattress Geek recently set out to answer common questions about the manufacture of the material in their latest article, "How is a Latex Mattress Created?".
The blog begins by explaining where latex comes from; the white milky liquid comprised of water, fat, and latex particles derived from either the hevea tree or synthetic sources. The process of creating the latex mattress material is described in six steps, which also explain the differences between the Dunlop and Talalay production methods.
Summarizing the steps, The Mattress Geek discusses how the liquid latex is frothed, poured, cooled and/or heated, then cured, washed, dried and packaged into mattresses. To illustrate the process, the article features an animated video developed by latex mattress company Astrabeds.com, describing the production of their 100% natural Talalay latex mattresses.
Following the video, the article explains the distinctions between natural latex and synthetic, their origins, and how labels can be misleading. The key benefits of natural latex are offered as a contrast to synthetic latex, memory foam and spring mattresses. The post first examines issues with odors and harsh chemicals, advising consumers to opt for a bed that avoids adhesives as one method of eliminating dangerous substances from the bedroom.
Comfort is addressed with brief explanations of buoyancy, contouring, support, and pressure point relief. The post illustrates that people who feel stuck in memory foam appreciate the instant response of latex, and its increased breathability created by the pinhole design which is shown in the video.
Other benefits attributed to latex include being highly durable, environmentally-friendly and allergy-friendly. Potential drawbacks are also presented for consumers, which include mattress weight and potentially higher costs compared with other bed types.
The Mattress Geek also highlights that few other beds can compete with healthiness, durability, environmental advantages and owner ratings of all-natural latex mattresses. The article succeeds in outlining clearly how latex mattresses come to be and why they are gaining popularity, offering interesting information for those considering a new bed or simply researching latex.
The-Mattress-Geek.com researches mattresses and bedding products to provide consumers with reliable information. With a focus on facts and accuracy, the website provides detailed buying guides, answers frequently asked questions, and delves into topics of importance to shoppers.