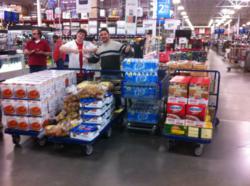 Columbia, MO (PRWEB) November 18, 2011
What is the number one question self storage renters want to know? According to StorageMart, it's "How much storage space do I need?" In an effort to answer the masses, StorageMart set out on a journey to discover just how much Thanksgiving dinner would fit into a self storage unit.
A crew of StorageMart staff documented their journey to max out a storage space with Thanksgiving goodness. What was in reality a 3-hour quest has been whittled down to a dynamic 4-minute video viewable on the StorageMart Self Storage YouTube channel.
In answer of the question we all want to know - How much Thanksgiving dinner fits into self storage? StorageMart today announced that a 5x5 self storage unit will hold more than 1,500 pounds of food. Inventory of the jam-packed storage unit included:

192 cans of Del Monte corn
120 cans of Ocean Spray cranberry sauce
24 family-size boxes of Minute rice
384 bottles of Nestle Pure Life water
63 pounds of russet potatoes
14 family-size boxes of Betty Crocker sweet potato casserole
216 bags of Pepperidge Farm stuffing mix
192 cans of Swanson chicken broth
In summary, staffers stuffed the storage space with a Thanksgiving feast the Food Bank of Central and Northeast Missouri was more than grateful to receive. Upon completion of their quest to fill the storage space, StorageMart donated the goods to The Food Bank, who will distribute the goods across 32 counties in Missouri.
About StorageMart
StorageMart is a full-service self storage company, offering moving and packing supplies as well as clean and affordable storage units. The company owns and operates over 130 self storage properties in the U.S. and Canada. StorageMart funds the "Storagemart ScholarSmarts" program, which annually awards $10,000 in educational scholarships. The company partners with many local charities and non-profit organizations including Shoeman Water Projects, local humane societies and more.
About the Food Bank of Central and Northeast Missouri
The Food Bank of Central and Northeast Missouri is a centralized food collection and distribution facility that provides food and household products to agencies serving people in need. In 2010, The Food Bank distributed over 27 million pounds of food and household products across Missouri. The efficiency of The Food bank's distribution and the generous donations of farmers, manufacturers, wholesalers and retailers allows The Food Bank to provide 15 meals for just $1.
###