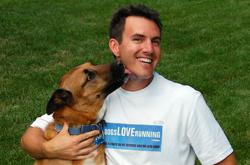 "How much to charge for dog walking?" Our blog covers that and more.
Lisle, IL (PRWEB) March 30, 2012
With the Spring season now officially here, it's a time when people start to regularly get back outdoors with their pets and enjoy the warming weather. It's also a time when interest in starting an outdoors-related business starts growing and more people are looking for information on how to start a business that enables them to work with dogs, cats, and other animals for a living.
Dogs Love Running!, experts in the pet franchise service industry, see spikes around this part of the year on their pet blog for articles relating to starting a dog and pet-related business. They have been writing in their blog since early 2010 on all sorts of topics regarding how to successfully start, operate, and market a dog walking and pet sitting company.
"We write about many different things," says John Reh, the company's founder and current president. "As experts in this field, we know how rewarding it can be to run this type of business and we're happy to help people learn how to start a successful pet service."
"With Spring now here, people start thinking about working outdoors in a pet business and one of the most common questions we get is 'how much should I charge for dog walking?'," says Reh. "We've got information on how to determine that as well as answers for other common questions on our pet business blog."
The pet blog mainly addresses ideas and questions regarding marketing and operating a business focusing on dog walking and pet sitting services. Other areas of discussion include adding team members, accounting, and strategy planning.
Dogs Love Running! is a franchisor of their dog walking/running and pet sitting business concept. Their turn-key pet franchise is available to people in most states across the country.
"We love helping people," says John. "As a franchisor, it's our business to be professional pet business coaches. But if someone already has a business on their own or is looking to start one on a very small scale and wouldn't need everything our franchise can offer them, then we're still happy to help share what we know in hopes that our experience can be of benefit in helping them run a safer and more successful business. And, if a person wanted to skip the part about figuring it out for themselves and just wants to get going in the right direction on day one, joining us as a franchisee is always an option."
The Dogs Love Running! pet business blog is a free resource and can be subscribed to via email or RSS directly on the blog site.
About: Dogs Love Running! helps pets live longer and behave better through exercise. They offer private dog walking/running, pet sitting, and related services at the customer's home. They're also a low-cost, home-based franchise with available markets across the nation.