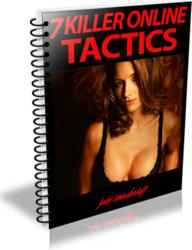 Men need to realize that they can't just take some outdated pick up artist tactics and think that they can use those on dating sites
Pembroke MA (PRWEB) August 10, 2012
The idea of online dating appeals to many single men. However, many men who try it find that getting a date online can be very frustrating, says dating coach Jake Vandenhoff in his new report. In order to be successful, men need to understand how to how to attract women online, Vandenhoff says.
"Men need to realize that they can't just take some outdated pick up artist tactics and think that they can use those on dating sites," Vandenhoff says. "Too many guys think they can simply start sending emails that say things like, 'hey baby' or 'what's up girl' and get women to write them back, and then when they don't get a response they decide that online dating is impossible."
In his new report "7 Killer Online Tactics", Vandenhoff recommends a technique he calls "assuming rapport" where rather than writing to a woman as if she is a total stranger, or attempting to use a pick up line, one writes as though he is talking to a friend. Vandenhoff explains that this type of communication sets a friendlier and more relaxed tone, that a woman is more likely to respond positively to.
"Usually strangers will start with very boring small talk. They'll exchange mundane pleasantries like 'how do you do?' and 'it's a pleasure to meet you' and then move on to making comments about the weather, discussing last nights sports game, and asking boring interview style questions," he says. "this is not the way to start a conversation with a woman, ever, online or off. It makes you come across as timid, dull, and shows her that you don't have a clue about how to communicate with women."
A simple technique for assuming rapport, which Vandenhoff explains in his report is to skip the common formalities that most people use when emailing a stranger on a dating site.
"Rather than starting an email by acknowledging that you are strangers and that you are both on a dating site, skip over that step entirely," says Vandenhoff. "Instead, go straight into talking about an interesting topic that is going to grab her attention, and make her want to get to know you better."
In addition, writing to a woman as if she was a friend rather than a stranger increases the likelihood that she will be willing to meet for a date without feeling that she needs to take an exorbitant amount of time to getting to know a man online, Vandenhoff says.
Jake Vandenhoff is a dating coach and author specializing in self-development, creating attraction and online dating. Through his website http://www.attractandconquer.com he has spread his message by sharing dating tips for men and teaching men how to approach women and communicate attractively and authentically. He's the author of the Online Dating Playbook which offers men step-by-step instructions for meeting women online.
For more information, and to download his report on how to attract women online visit Jake Vandenhoff's website at http://www.jakevandenhoff.com/reports.html