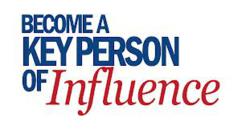 Learn how to answer the question all entrepreneurs get asked at some point: "What do you do?" then answer in a way that gets response like this: 'Wow, that's amasing. How can I have some of that?'
London, England (PRWEB) February 18, 2013
Daniel Priestley, one of the most connected entrepreneurs in London, teaches the principles of attracting ideal clients and opportunities in his Amazon bestselling book, "How to Become a Key Person of Influence." Priestley along with other influencers will be at the Expand your Brand event this March.
Priestly built a business turning over millions in under 2 years. "Some think that takes years of hard work, but it doesn't have to, you don't need to do more university training or spend decades climbing corporate ladders. You can become a Key Person of Influence in your field very fast."
Learn how he did it by downloading a free chapter of his book, "How to Become a Key Person of Influence," at http://www.keypersonofinfluence.com/free-chapter/index.php
Priestly will join other millionaire entrepreneurs live at the Expand your Brand event, which takes place Friday, 8th and Sat 9th March 2013 at the London Congress Centre.
Speakers include influencers, such as:
Mike Harris
Harris is one of the few people in the world to grow more than one Multi-Billion Pound Business as founding CEO of Internet Bank Egg, Firstdirect Bank. He also grew a massive division of Mercury Communications and is an expert in creating big billion-pound brands. Learn how to answer the question all entrepreneurs get asked at some point: "What do you do?" He'll teach how to get a response like this: 'Wow, that's amasing. How can I have some of that?'
Darren Shirlaw
Shirlaw launched Shirlaws in 1999, one of the fastest growing international business coaching organisations. Shirlaws Business Coaches work alongside clients to guide their businesses to long-term, sustainable business growth. He'll speak on delighting customers who then become your business advocates.
Charlie Lawson
Lawson is a word of mouth expert, trainer and author who is co-National Director of BNI in the UK and Ireland. BNI operates in nearly 50 countries in every populated continent on Earth. It is the world's foremost referral marketing system, using networking to achieve its astonishing success. Charlie's goal is to help BNI members generate £1 billion of referral business per year by 2020 and he'll explain how to attract referrals to your business.
Life Changing Ideas, Systems and Technologies to Be Presented
The events have been described as life changing. Everyone who attends will come away with breakthrough ideas, systems and technologies that hold the key to their future success. "My experience of KPI is always high value totally business relevant information, mentoring and motivation," says Sharon Eden, Founder, Director at The Passion Whisperer.
To be sure, Expand your Brand comes with a money back guarantee and will surpass your expectations or we'll give your money back!
Learn more about the Expand your Brand event at http://www.entrevo.com