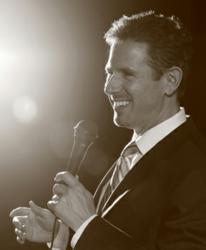 learn how to become a motivational speaker
San Francisco, California (PRWEB) July 17, 2012
Author and speaker, Patrick Schwerdtfeger, is offering his acclaimed Keynote Mastery program for aspiring speakers in a virtual format. The program includes four weekly conference calls with 60-minute presentations (as well as accompanying PDF worksheets) and a fifth call reserved for questions and answers. The cost is $249 and interested parties can register for the program here.
Patrick Schwerdtfeger earns over 70% of his income from speaking fees. He has spoken at conferences and conventions across the United States and Canada as well as destinations in Mexico, the Cayman Islands, Aruba, Sweden, Finland, Portugal, the Middle East and India. His career had a modest beginning. In 2008, he spoke 72 events (including 47 Rotary Clubs) and only got paid for two of them. Since then, he leveraged modern marketing and social media to build his career into what it is today.
Keynote Mastery is a 5-week training course designed to help aspiring speakers develop their careers as quickly as possible. The program focuses exclusively on keynote speaking (getting paid a fee to speak at an event) as opposed to platform speaking (selling products or services from the stage). No part of the course covers product development or platform selling. Instead, Keynote Mastery teaches its participants how to find and secure paid speaking engagements.
About Patrick Schwerdtfeger
Patrick Schwerdtfeger (@schwerdtfeger on Twitter) is a motivational speaker who has headlined events for Bloomberg TV, Bank of America, Comcast Cable, Research in Motion (BlackBerry), Time Warner Cable and United Healthcare among others, as well as dozens of conferences and conventions around the world. His programs focus on business trends, small business marketing and the social media revolution.
Patrick is the author of Marketing Shortcuts for the Self-Employed (2011, Wiley) as well as Webify Your Business: Internet Marketing Secrets for the Self-Employed (2009) and Make Yourself Useful: Marketing in the 21st Century (2008). He has been featured by the New York Times, LA Times, San Francisco Chronicle, CNN Money, Fortune, Bloomberg Businessweek, the Associated Press, MONEY Magazine and Forbes, among others.
Patrick is available for television appearances and media interviews. He can be contacted through his website: