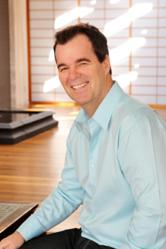 In Sydney this weekend, I plan to open the eyes of current and potential real estate investors to opportunities they simply don't know exist
Sydney, Australia (PRWEB) October 16, 2012
Australia's largest city, Sydney, has always been attractive to property investors from all around the world. This, together with uncertain economic factors, is putting home ownership in the city out of reach of many everyday Aussies. In a free seminar this weekend, Rick Otton is revealing property investment strategies that will restore hope for both buyers and sellers in this market.
"There has been much focus in recent times on falling interest rates, slow to sell houses, and the inability for buyers to meet mortgage requirements" said Mr Otton. "And the media is once again trotting out the old chestnut of which suburbs are set to rise in value - something crystal-ball gazing writers seem to do every year."
"But in reality, all of this is just 'details'. What everyday Australians want to do is sell the homes they have, at the price they want, and buy the homes they want at the price they want" he continued. "And this is exactly what I plan to show them in Sydney next weekend."
Mr Otton is known for his innovative real estate investment strategies, using techniques that operate outside of the traditional borrowing/lending paradigm. He offers proven alternatives for those who cannot meet the requirements for a bank loan, like the self-employed or those without the required deposit.
Notably though, he also delivers strategies for those who wish to sell a property, but are finding this challenging in a market flooded with sellers.
"In Sydney this weekend, I plan to open the eyes of current and potential real estate investors to opportunities they simply don't know exist" said Mr Otton. "Their whole perception of the property market in this country is set to be changed dramatically - and I can't wait to see their faces once the 'get' what I have to share with them."
Many of the strategies that Mr Otton uses to conduct property transactions are detailed in his book 'How To Buy A House For A Dollar', which was released earlier in 2012. In his free seminar on Saturday, October 20, he will explain these strategies in details and give real examples of how they have worked, both for him and his students around the world.
Details of the free Sydney seminar are at How To Buy A House For A Dollar
About Rick Otton
Rick Otton has spent decades making money by snapping up inexpensive real estate and putting it to work building wealth. Now, he's teaching other Aussies how to do the same.
Otton is the founder and CEO of We Buy Houses, which operates in the U.S., U.K., Australia and New Zealand putting his strategies to work every day.
Otton got his start in alternative real estate investment in 1991 and within a year acquired 76 properties. In years after, Otton made a fortune using his low-risk, high-reward strategies to inexpensively acquire real estate.
Now, Otton wants to share the wealth by sharing the wisdom, teaching Aussies how to buy and sell real estate without cutting banks and other middlemen in on the deal.
Otton has been featured in a variety of television programs and magazines, including Today Tonight, A Current Affair, Australian Property Investor and more.
You can learn more about Otton and how to invest in residential real estate without using banks at RickOtton.com
Details of Mr Otton's free one day training events can be found at HowToBuyAHouseForADollar.com