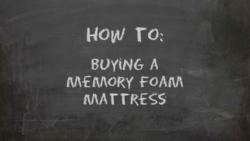 Boston, MA (PRWEB) April 22, 2013
When shopping for an unfamiliar product, many people seek out resources online for information. Mattresses prove one such item, and buying guides for beds can be helpful in explaining the different features and variations amongst brands. Blog MattressJournal.com takes a specific look at the memory foam mattress category in their latest guide.
The article, "How to Buy a Memory Foam Mattress," aims to educate shoppers with detailed explanations of key features and tips to help consumers select the best bed based on their preferences. A total of five features are considered, including the memory foam type, density, firmness, thickness and origin.
Mattress Journal refers to a previous article comparing memory foam types, offering a summary of the differences between traditional, gel and plant-based memory foam. The guide explains the differences and claims of each, with a nod to plant-based memory foam from Amerisleep which has been shown to sleep cooler than other types and excludes toxic VOCs.
Next, the guide details the differences between firmness and density, and how differences with each will affect the comfort of the mattress. Mattress Journal compares low, medium and high density memory foam and also offers recommendations on choosing the best firmness level based on sleep style.
The guide then considers thickness, and explains the unique composition of layers in memory foam beds. Three different firmness levels are considered, with Mattress Journal finding 9 to 12 inch thick mattresses with at least 3 to 5 inches of memory foam ideal for a majority of sleepers. Origin is briefly touched on as well, comparing potential advantages of buying American-made beds with imported alternatives.
Additional tips including information about trial periods, warranties, and what to look for in reviews will also appeal to those considering a memory foam mattress or already shopping. Mattress Journal also invites readers to submit additional questions about memory foam, and offers several other resources related to mattresses for consumers.
MattressJournal.com offers the latest bed news and mattress reviews to help shoppers research purchases and get the best sleep possible. Through careful, independent analysis of mattress types, brands, and sleep research, the blog offers expert opinions in readable, relatable format. With a focus on making the buying process simpler, Mattress Journal proves a valuable resource for consumers.