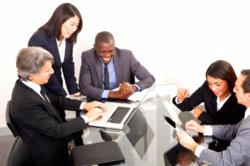 Those that learn how to purchase websites that are earning monthly income could invest in a website for a reduced price.
Seattle, Washington (PRWEB) December 21, 2012
MarketersBlackBook.com has published a new how to buy an existing website guide online. This fast track instructional manual is designed for new and existing businesses to use. While starting a new business can be expensive, purchasing one already making money could be beneficial for short and long-term goals. This new guide can be accessed at http://marketersblackbook.com/business/how-to-buy-a-website-already-making-money.
The costs to start an online business have reduced in some areas according to research. The cost of domain name registration, website hosting and trademark fees have been reduced due to the increases in technology. While the cost of startup has reduced, generating income can be difficult due to the rise in online competition.
Those that learn how to purchase websites that are earning monthly income could invest in a website for a reduced price to drastically reduce to cost of opening a new business venture online.
"A single website is not the only resource consumers use to purchase products and services," said Brian Hanson, co-owner of MarketersBlackBook.com. "Established websites could be linked to additional resources online that could increase the sales volume achieved, Hanson added.
Online auctions for websites is one of the topics that are covered in the newly published guide online. These companies function similar to offline auctions that allow a bid to be placed for a company website. Since these auctions are relatively new, not all buyers know these companies exist and savvy investors can often purchase for just the opening bid price according to the new guide.
Many sales of websites come with customer lists and marketing information that can be used to continue the sales activities after purchase. Companies that have built large email lists of customers could be beneficial to a new company that wants to avoid the high marketing cost to obtain new customers. The new guide available teaches how to find, research and bid on existing websites to help maximize the investment.
A brand new YouTube channel is now launched online at http://www.youtube.com/marketersblackbook. This new video resource is designed to offer tips, strategies and product reviews in short one to three minute segments online.
About Marketer's Black Book
The Marketer's Black Book website offers entrepreneurs, business owners and website owners a helpful online resource to help expand income generating opportunities online. The experts that own this website are experienced business professionals that have worked in various industries online and offline. The Marketer's Black Book company has expanded since its 2010 launch and has grown into one of the largest business training websites currently available online. Both online and in-person seminars are offered that provide advanced training to companies anywhere in the world.