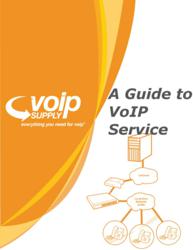 "If you ask the right questions up front, you can avoid signing with a risky provider." - Garrett Smith, VoIP Supply CMO
(PRWEB) June 15, 2013
The new Guide to VoIP Service is now available for download from VoIP Supply, North America's leading supplier of VoIP equipment and solutions.
This is the 11th guide to be released from the company's "Learn More" series of educational guides to VoIP equipment.
"If you ask the right questions up front, you can avoid signing with a risky provider," said VoIP Supply Chief Marketing Officer Garrett Smith . "VoIP service comes in all shapes and sizes so it's important to do your homework to get the best fit for your needs."
Learn how a VoIP phone system works, the difference between premise-based and hosted VoIP Solutions, and more:

What is VoIP Service?
Anatomy of a VoIP Phone System
VoIP Requirements List
How to Choose a VoIP Service Provider
Ways to Improve Call Quality
For more information about VoIP Service, please call 800-398-8647 or visit http://www.voipsupply.com/voip-service-guide.
About VoIP Supply
We are a place of uncovering, cultivating and developing leaders. A world class place to work with big goals, a clear vision, defined purpose and a dedicated team of passionate business professionals. We love what we do and do it better than any of our competition.
Since 2002, VoIP Supply has been the leading supplier of VoIP equipment and complete VoIP solutions in North America. We are known in the industry as responsive and knowledgeable VoIP product experts.
With everything you need for VoIP, VoIP Supply has grown rapidly throughout the years. VoIP Supply is a three-time Inc. 500/5000 honoree, listed by Business First as one of WNY's Most Admired Companies, as well as one of Western New York's Best Places to Work for many consecutive years, including 2012. VoIP Supply is also the first and only Certified B Corporation in Western New York.