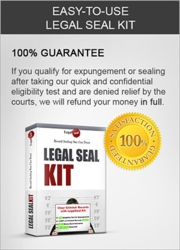 Learning how to expunge your record is a great way to avoid unnecessary questions and discrimination
Pompano, FL (PRWEB) June 21, 2013
Convicted felons face a host of problems when attempting to re-enter society, according to LegalSeal consultants. Their experience working with different individuals, arrested on minor to high-profile charges, is a testimony. Their countless hours of research and testing have produced reliable solutions to help men and women who need consultation on expungement proceedings without the high price tag.
Their newest innovation is a state-of-the-art DIY (Do-It-Yourself) criminal record sealing kit. It is strictly for those who want to seal or expunge records regarding an arrest and certain other offenses. The process can be lengthy. With LegalSeal though, it begins with a short eligibility test that immediately pre-qualifies an individual for the expungment or sealing process.
The program is complete with helpful materials to learn about different parameters because all states have independent expunge laws. It is a forward-thinking approach to avoid costly legal fees and disappointments. Breaking trends of joblessness, embarrassments, and low self-esteem as it applies to feeling qualified for a position, it is the gateway to reclaiming an upstanding lifestyle. "Releasing this product on how to clear your criminal records without additional assistance from expensive lawyers and other types of legal representation, is a goal we are finally happy to have accomplished" stated marketing specialist Claudia Salinas. Featuring a rich interface that incorporates stately rules as parameters to encourage compliance, it meets the official standards.
Their idea to create such an application stems from the challenges affecting masses of people previously arrested. Moreover, it is not solely about those who served jail time, but others who underwent conviction for crimes. Even though all crimes encompass different levels of immorality, the general public and authorities only see that someone is a criminal based on public records that do not necessarily convey the character of a person. "Learning how to expunge your record is a great way to avoid unnecessary questions and discrimination" said co-founder Jeremy Brooks.
"The DIY sealing kit to clear your record is the ticket to enjoy life deservedly in the modern-day" is a main slogan on their site. In these days, where the economy is evolving from its recessive status, they see it necessary to automate their services. This kit is a way of quickening the process. They understand that other methods on how to clear your criminal record have failed or are otherwise not fully effective, but their invention narrows the uncertainty. According to them, their kit works impeccably and provides satisfactory results, once a client qualifies. It furnishes straightforward application steps from start to end. Completing them is stress-free and engaging.
Knowing how to expunge a record is a valuable skill. Ideally, LegalSeal DIY expungement kit include its iconic "Dummy Guide" to sealing any criminal files confidentially and legally. It underwent a thorough investigation by the authorities and is a brand approved by the BBB (Better Business Bureau). What is more, they have integrated an assessment step to let clients know beforehand, their chances at success. On grounds of precision, the exam is 100% accurate because it portrays that of presiding state laws. The kit provides a way to recuperate, despite past lives of wrong choices and misfortune.