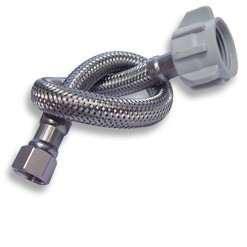 Every time you install a new sink, you'll need to hook up supply lines to the faucet and the waste line to the trap.
Youngstown, Ohio (PRWEB) February 20, 2013
"Every time you install a new sink, you'll need to hook up supply lines to the faucet and the waste line to the trap," says Bob Beall, president of Mr. Rooter Plumbing of Youngstown. Recently, according to Beall, a customer requested information on installing a pedestal sink. Since there were no tips about connecting supply lines, Youngstown's most referred plumbing and drain specialist decided to share the expert plumbing advice on this topic.
"We will cover four different types of sinks – each mounts in a unique way; if you find your situation calls for further explanation please use our comment box so we can address your personal issue," says Beall.
"The only thing that is not unique to each sink is the supply and waste hookup – it's pretty much the same for all. To avoid repetition, today's tip will cover supply lines first and then continue with connecting waste lines," says Mr Rooter.
As a general rule, it's easiest to hook up the supply lines first, since the waste line will block access to the supply lines. "Typically, you'll connect the hot and cold shut-off valves to the hot and cold valves of the faucet," says Beall. These connections are usually made with flexible supply lines – either chromed copper or braided or plastic flexible lines with captive connecting nuts (another tip coming soon).
Mr Rooter Tip Of The Day
Connecting Supply Lines
Tip #1 Since it is very difficult to install flexible supply lines to a faucet once the sink is in place, it is best to attach these to the faucet valves when you have full access to the faucet. Start by wrapping a few turns of Teflon® tape around the threads of the hot and cold valves.
Tip #2 Now you can thread the faucet end on each of the flexible supply lines onto the hot and cold valves and tighten them with an adjustable wrench.
Tip #3 Next, wrap the threads of the shut-off valve with Teflon® tape, and thread on and tighten the nuts (captive connecting nuts) with and adjustable wrench.
How a waste line connects to a sink depends a lot on the type of sink. "Sinks with single drains are much simpler to plumb than sinks with two or more drains, like many kitchen sinks," says Beall. As a general rule, according to Beall, chrome-plated brass fittings hold up better over time than PVC plastic fittings that are connected via compression fittings, and they are less susceptible to puncture. "The exception to this rule is ABS plastic that is cemented together (again, another tip coming soon).
TRADE SECRET: Sinks with single drains connect to the waste line via a tailpiece and a trap. Bathroom lavatories commonly have a pop-up mechanism that can open and close the drain as needed. Kitchen sinks with multiple drains are more complicated and usually involve running a tailpiece down from each strainer. These tailpieces are then connected together with either one or two elbows and a Y-connector.
Connecting Waste Lines
Tip #1 Depending on your existing waste line setup, you may or may not need to run a new trap line to connect to the trap. In many cases, you will be connecting the new waste line to an existing line that has been cut off; misalignment here is a common problem,. Two solutions: flexible waste line parts and flexible rubber transition fittings. Flexible transition fittings have a hose clamp on each end; one is tightened around the new line and the other is tightened around the existing waste line.
Tip #2 Additionally, you may need to extend the tailpiece(s) down far enough to reach the existing trap line. Extensions in various lengths are available wherever plumbing supplies are sold and are easily cut to length with a hacksaw.
Tip #3 With the extension(s) in place, you should be able to connect the trap to the extension and trap line. In general, you will want to push the trap up onto the extension until the lower end mates with the trap line.
Tip #4 For the trap line, (trap and tailpiece), start by tightening the slip nuts by hand,. Then grip each coupling nut with a pair of slip-joint pliers and give each nut an additional quarter-turn.
WHAT CAN GO WRONG: Although flexible waste lines may help cure misaligned parts, there are situations where it's best not to use them. A prime example: When there's a garbage disposer in use. The accordion-style body that lets you flex and angle the part also tends to catch ground-up food particles, resulting in frequent clogs. If you do have a kitchen sink with a garbage disposer and an alignment problem, take the time to re-plumb the waste line using non-flexible waste line parts.
There's A Reason They Call Us Mr.™
For more information, please visit http://www.rooter2.com.
Debra Santavicca, PR, SMM, WebIT
Mr Rooter Media Center
Mr Rooter Tip Of The Day
http://www.rooter2.com
724-553-9510