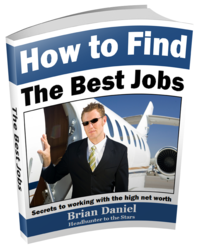 The key to scoring cool jobs is knowing how to break into the hidden job market
Los Angeles, California (PRWEB) April 24, 2013
Due to demand, the DreamJobGuru.com staff has added a 'look inside' feature to their popular ebook about how to find a job. Now candidates who want to learn how to penetrate the hidden job market can look-before-they-buy and get insider information from a top headhunter and score cool jobs the easy way.
Brian Daniel, author of the ebook "How to Find the Best Jobs: Secrets to working with the high net worth," is a former Chief of Staff to a royal family and he outlines strategies for impressing employers and outshining the competition.
"Before I became a headhunter, I was a personal assistant to Hollywood celebrities and billionaires," says Daniel, "and I scored those cool jobs without a college degree or the help of an employment agent."
Daniel's ebook teaches secrets of how to find a job in the hidden job market and get your resume into the hands of decision makers. In an overly-competitive job market like today – with millions out of work – having an edge on the competition is key to landing interviews.
The ebook is also packed with hundreds of other resources online: photos, videos, resume tips, and articles which teach the reader the ins and outs of working for high net worth families. "There are over 9 million millionaires in the United States," says Daniel, "and the opportunities to be a personal assistant, estate manager, or executive assistant are unprecedented in history. And with over 1,200 billionaires, one can see how widespread the opportunities are."
How to Find the Best Jobs: Secrets to working with the high net worth comes in a PDF, so buyers don't need an ebook reader. For more information, visit http://www.DreamJobGuru.com.