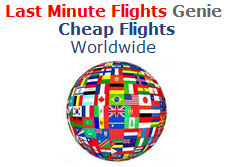 We're Here To Help You Save On Airfare!
Stamford, CT (PRWEB) September 21, 2010
http://www.LastMinuteFlightsGenie.com is an airline ticket Consolidator that has launched a website to make it easy for travelers to find cheap airline tickets for international, domestic or last-minute flights, for first, business or coach/economy class on major airlines to most major cities worldwide.
Airline ticket Consolidators are companies that buy tickets from the airlines at deeply discounted prices, and resell these tickets primarily to travel agents, who in turn provide the tickets to their customers.
Airlines sell tickets at deep discounts to Consolidators because they buy very large numbers of tickets, and they have established excellent relationships with the airlines.
Most Consolidators sell their discounted airline tickets only direct to travel agents, who then add their profit to the price of the ticket, and sell them to their customers.
Travel agents know, that even armed with powerful computerized airline ticket reservation systems, to find the best deals on airline tickets for their customer's itinerary, it takes the willingness to spend whatever time it takes to look for, and find the cheapest tickets; and it's essential to have contacts in the travel industry to locate tickets and deals that may be hard to find, or are otherwise not available.
Last Minute Flights Genie is operated by travel professionals who have sold wholesale, deeply discounted Consolidator and bargain airline tickets to travel agents worldwide for over 30 years. The company recently decided to expand its operations to now offer its deeply discounted tickets for cheap international flights and cheap last-minute flights direct to the general public via the Internet.
Travelers register for free on LastMinuteFlightsGenie.com and submit their flights' itinerary to receive a fare quote to book their tickets. The expert travel agents at LastMinuteFlightsGenie.com (some with over 30 years experience finding the lowest flights and best deals), spend whatever time it takes to comprehensively search and review computerized flight itineraries and prices, and use all of the company's business relationships with airlines and other Consolidators to find the cheapest airline tickets they can offer for the customer's itinerary.
"Our travel agents enjoy saving our customers as much money as possible. They are highly skilled, and are relentless in their determination to find the cheapest airline tickets for last-minute international and domestic flights worldwide that we can provide for our customers," said Jerry Bruckner, founder, LastMinuteFlightsGenie.com.
Customers are sent an email to let them know that their fare quote has been posted to their My Trip Details screen on the website. The customer reviews their fare quote and can send questions to customer service about their flights and fare quote directly from this screen. Customer service can respond or ask questions on the same screen.
When a customer is ready to book their flights, they make payment for their tickets at a secure encrypted payment screen with a major credit card, and Last Minute Flights Genie will then book the tickets with the airlines.
The airlines send Last Minute Flights Genie the E-Ticket Confirmation Number for this booking, and they then email it to the customer; who can log-in to the airline's website from any computer and view their confirmed reservation, and print out their boarding passes.
The next time you need to book flights check out http://www.LastMinuteFlightsGenie.com and see if they can find a great deal for your itinerary.
MEDIA CONTACT:
Jerry Bruckner, Founder, LastMinuteFlightsGenie.com • (877) 477-5315, info(at)lastminuteflightsgenie(dot)com
# # #