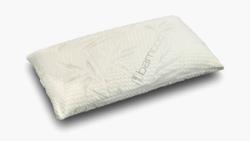 Miami, FL (PRWEB) April 06, 2013
Pillows play an important role in sleep comfort, as they affect the position of one's neck and spinal alignment. With so many different choices, people frequently wonder which is the best pillow for their needs. The Sleepy Shopper, a blog about beds and sleep, just released a guide all about pillows to offer insight.
Titled "How to Find the Best Pillow," the guide explains the differences between popular pillow types and offers tips for selecting the best pillow for each sleeping position.
The article looks at four main types of pillows: memory foam, latex, down, and down alternative, discussing pros and cons of each. Memory foam and natural latex are cited as the best options, due to their longevity, pressureless support, and facilitation of correct alignment. Issues with allergens, durability and support are considered in naming these two types as the best pillow options.
Sleeping positions offer readers insight into optimal pillow choices, with recommendations offered for back sleepers, side sleepers, and stomach sleepers.
For those who prefer back sleeping, the best pillow is described as fairly thin and medium to plush in firmness, to allow the neck to rest in a natural position. Both traditional and thin contoured pillows can offer good support for this position.
Side sleepers may find the best pillow to be thicker, and medium to firm in support. This is because side sleepers need to keep their necks level to the rest of their body, and for this contour-shaped pillows are recommended.
For stomach sleepers, the guide suggests thin, breathable, plush pillows to reduce back and neck pain.
The guide also offers a recommendation for universal support, which is a conventionally-shaped Comfort Classic memory foam pillow from Amerisleep.com. The brand utilizes plant-based memory foam free of harmful VOCs and has good owner reviews for comfort.
Ultimately, people shopping for a new pillow but unsure what to look for will find helpful tips in The Sleepy Shopper's guide, from explanations of specialty materials to tips for improving sleep quality. The blog also offers other helpful guides and educational articles on adjustable beds, mattresses and more.
TheSleepyShopper.com offers insights and information for consumers, focusing exclusively on mattresses, pillows, bedding and sleep products. Utilizing an accessible, responsive blog format, the website aims to help educate consumers about their options and on making better buying decisions. From industry research, to product reviews, and general guides, the blog is a must-read for anyone in the market for a new mattress.