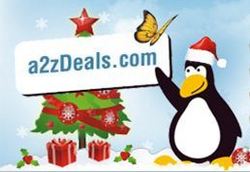 Shipping the gifts to someone else? Don't pay UPS or the post-office this year: Purchase the gifts online, and then have them delivered directly to the gift recipient.
Folsom, CA (PRWEB) December 14, 2009
Eight tips that will save you money on holiday gift shopping:

If you are holding out to buy your gifts, this is the week to get the best deals: retailers will do the final markdowns of the season to clear out the remaining inventory.
Almost ALL retailers are offering free shipping coupons this year, so make sure to use codes from a2zDeals.com to get your gifts delivered free.
Need your gifts right away? Many brick and mortar stores ship your online purchases free to your local store. You can get online prices, and pick up your purchase from the local store in as early as 30 minutes.
Shipping the gifts to someone else? Don't pay UPS or the post-office this year: purchase the gifts online, and then have them delivered directly to the gift recipient. You not only save the shipping cost, but also the hassle of packing and shipping the gift yourself.
In most online stores, shoppers need to order by Dec. 19 to receive the item by Christmas Eve. Some stores will offer complementary overnight shipping on Dec. 21 and 22, but your choices will be limited.
If you are shopping for yourself and do not mind perfectly good open-box items, wait for a couple of weeks. The week after Christmas and the first few weeks of the year are the best weeks for huge discounts with open-box sale and clearance deals. Most of these items come with full manufacturer warrantees. Some stores have special return policies for the open-box items, so be sure to read them before ordering.
Best online deals this shopping season are in computers, electronics and gadgets: free cell phones, big screen HDTVs, Blu-ray players, iPods, digital cameras and camcorders. The netbooks, desktop and laptop computer deals that started with Microsoft's Windows 7 introduction have gotten even better for the holidays.
Finally, do not forget the golden rule of online shopping: Never purchase an item online without first checking to see if there is an online coupon code for your item. About 95 percent of the time, there is an available online coupon code that you can use. Visit http://www.a2zdeals.com to find the most expansive access to promo codes, coupons, discounts, free products and free and discounted shipping from major retailers for top-name items ranging from electronics to clothing to airfare.
a2zDeals finds the latest and validated coupons and deals, allowing shoppers to view all the deals and coupons for their favorite online stores with a single click of the mouse. Shoppers won't find themselves at the checkout screen with a blank "insert promo code here" box. a2zDeals has a coupon code for all of the retailers on the site. Shoppers can find promo codes, discounts and free shipping coupons online to buy the most sought-after Christmas gifts.
You'll find free shipping deals, 75 percent off retail prices and free products from top-name retailers. There are great laptop computer discounts, broadband DSL Internet providers deals with $200 and more cashback and thousands of deals from your favorite department stores. Consumers can shop from the comfort of their home--anytime, day or night. The site is safe, secure and does not collect personal information.
Every day brings more new deals. With no membership fee and a site that is easy to navigate with coupons and discounts for nearly any shopping need, a2zDeals has proven itself as one of the top coupon sites on the Web.
Celebrating its 10th year online, a2zDeals.com is an award winning family-oriented website that does not accept advertising from companies with products unsuitable for its audience.
###