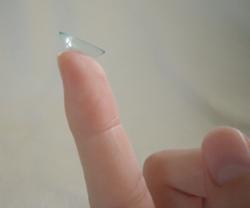 contact lenses can be bought online but it is only safe if it is purchased from regulated websites
(PRWEB UK) 13 June 2013
Optometrist Kishan Devraj states that contact lenses are a sensitive product. In fact it's like buying drugs from a chemist - they should be prescribed. Therefore, buying contact lenses online can work but most internet companies allow purchase without a prescription and this can cause problems. In fact even if you do have a prescription and buy online most places won't verify it with your opticians to make sure you are getting the right lenses for your eyes. This forms the basis of which the recent incident surrounds. The original article can be read here.
So how did this happen? The young lady purchased contact lenses from an online retailer and lost her vision shortly after from a fungal infection. However a fungal infection may be caused by poor compliance. Attending regular check-ups for contact lenses means having the state of the eyes checked, risks of infections or other complications are addressed and appropriate advice is given. This is accompanied by checking that the lenses are giving best possible eyesight. Therefore, a good online retailer would ask for optician contact details to make sure the above is met before supplying contact lenses. In fact in the UK it is the law (Opticians Act 1989) to only sell contact lenses with a valid prescription. So the truth is contact lenses can be bought online but it is only safe if it is purchased from regulated websites.
The British Contact Lens Association (BCLA) president made a statement almost immediately after the incident saying "infections of the cornea can be very serious and are most commonly associated with patients not following the precise instructions for lens care and wear given to them by their eye care practitioner". So how to get contact lenses online? Contact Lens Mail optometrist Kishan said "we started the online company contactlensmail.co.uk so that nobody should risk damaging their eyes from online contact lenses. People will always go online to buy so why not do it the right way. Therefore we sell contact lenses over the internet but only after checking with customers' opticians to make sure check-ups are up to date and correct lenses are being sent out".