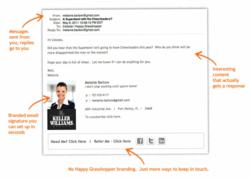 NAR® reports that email is the number one method used to keep in touch with past and active clients.
Tampa, FL (PRWEB) May 31, 2011
The 2010 Technology Survey done by the National Association of REALTORS® reports that 98% of all real estate agents surveyed believe referrals to be a important part of their lead generation efforts. So how do sales professionals get referrals?
Email marketing has long been considered a necessary and valuable tool for real estate agents and brokers. NAR® reports that email is the number one method used to keep in touch with past and active clients. Email marketing has traditionally taken the form of monthly e-newsletters and to deliver new listing information. But, with referrals being such an important marketing strategy, sales professionals are turning to to it to generate referrals.
Happy Grasshopper, an email marketing service used by 1,000's of REALTORS®, has compiled a list on how to get referrals with email marketing:
1. Understand goals. Develop a crystal clear understanding of what the email marketing campaign should accomplish. Most will give up on email marketing because they don't have clear expectations on what they want it to do for them.
2. Don't sell. People won't buy from you based on an email. Instead, email should be used to maintain top of mind awareness and build relationships.
3. Think human. It's an email, not a text book. There is no use for professorial prose and industry jargon here. People respond better to short, friendly messages.
4. Don't send to often. There's a fine line between maintaining awareness and becoming a nuisance. A good rule of thumb is to send emails once every 3 weeks.
5. Start conversations. It's the best way to build a relationship. Email should be used to ask for an opinion or to share local news and interesting stories.
More tips and email examples are available at HappyGrasshopper.com, including how to use a branded email signature, how to improve deliverability, and who should be included in an email marketing list.
About Happy Grasshopper:
Happy Grasshopper is an email marketing service. Their professional writers take the hassle out of knowing what to send or when to send. They draft and send friendly email messages that can be approved and edited before they are delivered. Sample messages are available free on the site.
# # #