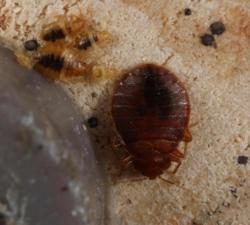 ...the "how do you get rid of bed bugs" question must be answered with a solution that does not add more health risks and big expenses.
Chicago, IL (PRWEB) February 05, 2013
The number of bed bug infestation continues to increase. But according to patch.com, bed bugs are more prevalent in Chicago than anywhere else. In response to the growing population of the blood-sucking insects, My Cleaning Products posted a guide how to get rid of bed bugs effectively without using chemicals and spending too big of an amount.
Based on the report, the ranking of the most-bed-bug-infested cities covered the months from January to December of 2012. It was made by one of the county's pest-control companies, which refreshes the list annually.
Along with Chicago, several other big cities were included on the list. Particularly, Detroit, Los Angeles and New York placed on top ten of the ranking.
Seeing that more people are now at risk of becoming the next bed bug victim, My Cleaning Products decided to help protect the public from the pests by posting a guide. As bed bugs are very sneaky and could still infest a place despite taking preventive steps, the site chose to center its post on the process how to get rid of bed bugs.
However, more specifically, it focused its guide on getting rid of bed bugs effectively, safely and inexpensively. As it said, given today's financial and health crises, the "how do you get rid of bed bugs" question must be answered with a solution that does not add more health risks and big expenses.
My Cleaning Products determined that the hiring of a bed bug exterminator and the use of a bed bug spray are the two most-commonly implemented methods to kill the pests. Nonetheless, between the two, it asserted that the application of a bed bug spray is the better choice.
The site explained that hiring a bed bug exterminator, though it is easy, effective and could also be safe, is expensive. It related that it could cost someone around $500-$5000. Getting rid of bed bugs through a bed bug spray, on the other hand, possesses all the attributes that make the best bed bug treatment, it said. Apart from effective, safe and easy to implement, MCP stated that it is also affordable. One just need to find the right product, it added.
But of all the bed bug sprays, My Cleaning Products declared that Bed Bug Bully is the right one to pick. It recommended its use as it was approved as a pesticide-exempt solution under FIFRA 25(b). More than that, it detailed that it was also proven effective and affordable.
In fact, MCP even encouraged the public to get a sample of Bed Bug Bully for themselves. With the sample, it said that anyone could prove that the product is all worth it.
Bed Bug Bully Complimentary Sample is Available at MyCleaningProducs,com, related the post.