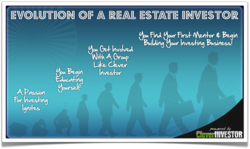 We teach investors how to invest in real estate even in the toughest markets - Cody Sperber
Chandler, AZ (PRWEB) August 18, 2012
Cody Sperber, local real estate investor, has established a world-class investor education program to teach people how to invest in real estate even during this down economy. His company, Clever Investor seeks specifically to educate all potential investors about the best ways for investing in real estate based on the current economy. The Clever Investor expert team members share valuable insights from years of success where they have incorporated proven investment strategies in even the most extreme economic status. The tactics are uniquely tailored for real estate investment success in any economy. Current real estate investors are honing in on buy and hold type of strategies using cash for purchases to land the best possible deals.
A unique feature of Clever Investor investment strategists is that cash investments can be done even if a person of potential real estate investment action is short on personal cash reserves. Now is the time to learn how to invest in the Phoenix area real estate market due to the recent surge in appreciation of real estate value in the Phoenix market. One key factor for success in real estate investment is realization that 30% of all real estate transactions in today's market are pure cash deals.
The newly organized mastermind group of elite, high-end real estate gurus formed by Clever Investor is actively seeking members to educate and incorporate into the world of real estate investing today. Not all mastermind groups are created equal. Sperber has combined all his exclusive real estate investment experts to offer reliable, usable, practical information intended to help navigate the potential land mines versus gold mine opportunities in the local real estate investment world.
For more information about investing in real estate with great success in real estate throughout a recessed economy contact Cody Sperber and his team of experts at support(at)cleverinvestor(dot)com or by phone at 888-480-6617. Clever Investor promises training programs targeted to all real estate investment venture possibilities. Visit their website at http://www.cleverinvestor.com to learn more on how to invest in real estate.