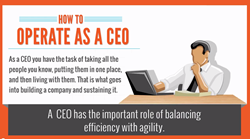 I think that knowing how to prioritize your tasks is crucial and is often the difference between success and failure for a business
Atlanta, GA (PRWEB) March 31, 2015
Online marketing consultant Youssef Hodaigui, a product management and growth hacking specialist, understands that a CEO wears many hats and needs to prioritize tasks in order to be successful. Hodaigui has released a new presentation that outlines the roles and top five priorities of the CEO: growing the customer base, improving operational effectiveness, enhancing customer service, R&D and innovations, and filling talent gaps.
"As a CEO myself, I have learned all of this through personal experience and I want to share some of the things that have worked for me," says Hodaigui. "I think that knowing how to prioritize your tasks is crucial and is often the difference between success and failure for a business."
Hodaigui has deep experience and skills in developing and implementing effective online marketing campaigns for businesses. He uses his unique skill set to deliver tangible results and increase ROI for his clients and brings to the table a focused approach to solving a problem in the shortest possible time. His clients appreciate his ability to develop a strategy that includes sustainability for the future. His decade of experience as an online marketer has been instrumental in creating a better bottom line for his 100-plus clients, including increased growth, revenue and ROI.
To view How to Operate as a CEO presentation visit the link: http://www.slideshare.net/youssefhodaigui/how-to-operate-as-a-ceo
Youssef Hodaigui is principal and owner of effectus360, an online marketing agency offering full-service website design, custom programming and Internet marketing services for businesses. Hodaigui is also partner and head of product management with Atlanta-based uServia, a mobile workforce management startup, where he leads and motivates a global team of designers, developers and content strategists in creating, implementing and maintaining mobile and web applications. Youssef Hodaigui's website is located at http://www.youssefhodaigui.com. More information can also be obtained by visiting https://www.facebook.com/youssefhodaigui and https://www.youtube.com/user/youssefhodaigui.