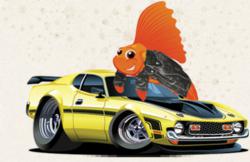 If a thief got his hands on your phone, he could do some serious damage with all the gadgets and gizmos that you have on there.
Chicago, IL (PRWEB) December 14, 2012
RoadFish.com men's lifestyle and finance magazine today issued their support of a recently published MoneyWatch article, which shines a spotlight on the tendency for thieves and scammers to operate around the holidays and offers tips for shoppers to avoid identity theft and other such scams. RoadFish.com likewise shared their suggestions about how unsuspecting shoppers can keep from being taken advantage of this season, and their take on this may be of great benefit to readers who would not otherwise be conscious of the increased risk.
Jennifer Waters of MarketWatch reports an increase in cyber criminals around Christmastime, stating that in addition to the conventional scams, thieves are constantly coming up with new ways to rip off unwary shoppers. Waters' article includes a quote from Robert Siciliano, a security expert for online security technology firm McAfee, who is quoted as saying, "Most of these scams we see all year, but they become much more prominent this time of year because of all the holiday hustle and bustle." Waters' article points out how shoppers who are exhausted, overwhelmed, and busy may tend to be less cautious of their surroundings than usual—making bloopers such as forgetting a credit card in an ATM or at a cash register, leaving bags full of exposed gifts in cars, and even buying items off of questionably safe websites.
Some of Waters' tips to consumers to keep their guard up include paying close attention to those close by when spending time in shopping malls and stores, and keeping close tabs on cards, wallets and phones during all shopping excursions. She also suggests covering the ATM keypad with one hand for every single transaction. Waters' article also warns consumers to beware of scammy emails, including those making charitable pleas—at least before research has been done to ensure the legitimacy of the charity—in addition gift-card scam emails and text messages, which often will include a link where scam artists will lure consumers to enter their personal information.
RoadFish.com states that they have dealt with a fair share of holiday scandal, and speaks from experience when offering readers tips to avoid being scammed on—in places other than cyber world. RoadFish.com's Senior staff writer is quoted as saying, "I would urge people to take precautions when shipping parcels or even mailing Christmas cards. One time I sent a package through the USPS to a family member as a holiday gift, and the contents—a book and a gift card—were pillaged and stolen en route to him. Similarly, I've sent Christmas cards with gift certificates enclosed and the card has made it to the recipient, although the monetized certificate has not. Now, whenever I ship packages, I always purchase the insurance—no matter how small the item may be. It may sound cynical, but it's based off of experience. It's very sad that people do these things to others, especially around the holidays, but the fact is they do happen and it's our job to protect ourselves."
Waters' article goes on to point out one of the newer dangers to consumers, fraudsters who use mobile apps maliciously. In fact the issue has become so mainstream that the term "malware" has popped up, short for "malicious software." Waters states that over 25 billion apps have been downloaded on Android phones alone—that's not even counting iPhones. FortiGuard Threat Monitor, an interactive tool which allows the company to view current and emerging threats of malware, reported a 8,500% spike in Android malware from 2010 to 2011. The holidays is prime season for fraudsters to strike with malicious apps claiming to offer discounts to consumers and help them find deals.
RoadFish.com is a fan of mobile apps, but recommends downloading them in the App store and password protecting all of the ones containing sensitive information. RoadFish.com's Senior staff writer is quoted as saying, "If a thief got his hands on your phone, he could do some serious damage with all the gadgets and gizmos that you have on there. Make sure that the apps with your really personal information, such as your bank's app and other financial apps, are password protected. And lastly, just use common sense. Go with the names you know and trust, like Mint.com's personal finance budgeting app, or Experian's Score Planner Free Credit Score tool. If something looks intriguing, do your homework. Research the crap out of it before downloading it and entering your personal information."
MarketWatch and RoadFish.com both urge consumers to exert extra caution this season, and keep their wits about them as the hustle and bustle only intensifies as the holidays draw nearer.
About RoadFish.com
RoadFish.com is a men's lifestyle and finance magazine targeted towards upbeat and self-motivated male readers in their 30's and 40's. RoadFish.com's featured articles include dating advice, food and restaurant reviews, and travel tips. In addition, the online publication also offers extensive advice revolving around personal finance, such as how to improve one's credit score and credit card tips to build credit.