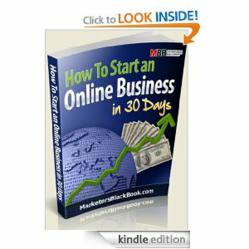 According to the Small Business Administration, over 30 percent of U.S. payrolls come from small businesses and new startups.
New York, New York (PRWEB) May 15, 2012
How to Start an Online Business in 30 Days is a new Kindle book authored and released by the Internet marketing specialists at http://www.marketersblackbook.com. Starting and running an online business is a dream shared by many people, but the traditional costs required to start a business might prevent someone from starting their own company online. Marketer's Black Book has utilized their expert knowledge of business and Internet marketing to author and distribute a resourceful book for online business creation. This book was designed for the complete beginner and there are no experience requirements for someone to get started. According to the Small Business Administration, over 30 percent of U.S. payrolls come from small businesses and new startups. The new book by Marketer's Black Book could help someone considering starting an online business to contribute to 2012 SBA statistics for business growth.
Consumer spending worldwide is one of the reasons that online sales for products and services continue to rise each year. The sales of books, DVDs, training courses and products continue to fuel a portion of the U.S. economy. Starting a website has decreased in cost compared with 10 years ago when costs were much higher to register a domain name or purchase a website hosting package. "It's now very affordable in 2012 for someone to start a business online," said Brian Hanson, Co-Author of How to Start an Online Business in 30 Days. Brian started one of his first Internet businesses in 2007 for a mere $1,500 and turned that investment into over 13 million in just under 4 years. "Part of my success came from the same things put into this new book," Hanson added.
One trend that is popular for starting an online business is known as a niche business. Many followers of a niche product, hobby or service are members of community forums that help like-minded people connect together online. The surge in popularity of Facebook and Pinterest is helping some current niche website owners and new niche website entrepreneurs to find a new consumer base. "A company that can tap into a market that is not flooded with too much competition can often be the first to stake a claim for their brand online," said Ryan Bush, Co-Founder of Marketer's Black Book and Real Estate Expert. Part of online business creation deals with branding a company online to build a level of consumer trust. "Many companies don't need to spend thousands of dollars on building a website if consumers trust a company," Bush added. How to Start an Online Business in 30 Days is now available at Amazon through the Kindle Publishing service and is available for free download to Amazon Prime members.
About Marketer's Black Book
Brian Hanson, Francis Ablola, Ryan Bush and Bernard Ablola started Marketer's Black Book in 2010 to teach their Internet business knowledge to small business owners and Internet marketers. As a helpful online resource, http://www.marketersblackbook.com provides reviews, tips and information all free of charge to anyone searching for ways to improve Internet marketing or online image branding. Companies that want personalized assistance tailored to a specific business or niche can take part in the consulting programs offered by Marketer's Black Book to amplify Internet marketing strategies used to launch new products, services or websites.