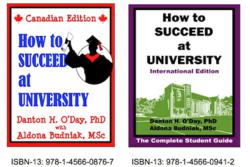 Written in a friendly, easy-going style with lots of true stories, these complete guides are packed with simple-to-follow but insightful step-by-step ways to study, learn and and get the best grades possible.
Oakville, Ontario (PRWEB) September 06, 2012
Right now, students around the world are returning to college and university. It's a time of great excitement as well as new challenges and opportunities. An exciting future is on the horizon. Historically, most students founder when faced with the challenges of their freshman year. Some will fail a few courses. Some will be put on probation. Others will quit. This doesn't need to happen.
Danton O'Day, a university professor with extensive teaching experience, and Aldona Budniak, a multiple scholarship graduate, have just published two eBooks: How to Succeed at University—Canadian Edition and How to Succeed at University—International Edition. Each book covers every aspect of academic success from orientation to graduation. Written in a friendly, easy-going style with lots of true stories, these complete guides are packed with simple-to-follow but insightful step-by-step ways to study, learn and get the best grades possible. Topics include all of the fundamentals students need: writing effective notes from books and lectures, tackling all types of exam questions, writing reports and essays, time management and more. Guidance is given on how to find sources of bursaries and scholarships. Filled with true-life examples and dozens of "Did You Know" facts, the books also confront the tough issues of dealing with academic problems, professors, cheating and plagiarism. Recent research data from a diversity of international studies adds support to much of the advice given. No other student guides are so detailed or complete.
These guides provide insight from two sides: the professor (O'Day) and a recent graduate (Budniak). The author of many student guides, Dan has lectured in the USA, Canada and throughout Europe. Aldona has lectured in various undergraduate courses, developed educational websites and produced teaching animations. Dan and Aldona have seen too many bright and enthusiastic students fail because they lack the skills for academic success. They wrote these inexpensive guides to help all students be the best they can be. Many guides focus on the social aspects of student life. These books focus solely on the academic side with original and unique information that will ensure a lifetime of success.
Available for $2.99 in any eBook format at one of the following: Amazon (Kindle), iBookstore (iPad, iPhone), Barnes & Noble (Nook), ReaderStore (Sony eReader), Kobo, Google bookstore as well as eBookIt.com and many other eBook retailers worldwide. The guides are also available as printed trade books at Blurb.com. Interested parties may contact Dan (danton.oday@utoronto.ca) for full copies of these eBooks or more information.
The authors are also pleased to announce http://www.HowToSucceedAtUniversity.com -- a website offering free guidance and advice to college and university students.
Contact Information:
Name: Danton H. O'Day
Address: 1486 Willowdown Road, Oakville, Ontario, CANADA L6L 1X3
Phone: (905) 847-3257
Email: danton.oday(at)utoronto(at)ca
About eBookIt.com
Based in Sudbury, Massachusetts, eBookIt.com has helped thousands of authors and publishers get their books converted to ebook format, and distributed to all the major ebook retailers, including Amazon.com, Barnesandnoble.com, Apple iBookstore, Kobo, Sony Readerstore, Ingram Digital, and Google eBookstore.
###