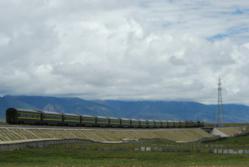 Choose the right way to get to Tibet per your schedule, budget and interests!
(PRWEB) April 08, 2013
Travelers planning a tour of Tibet will inevitably be faced with the question: How to travel to Tibet? Tibet Ctrip Travel Service-TCTS discusses the different and latest options. One of the easiest and most popular ways is by air; daily flights from many major Chinese cities serve Lhasa and there are at least two flights a week from Kathmandu. Many travelers choose to come overland from Nepal, with a travel agency like TCTS (http://www.tibetctrip.com) it is possible to enjoy a guided tour of Nepal then cross the border for a tour of Tibet! Another option is to ride the world famous Qinghai Tibet Railway.

Arrive by air: With daily flights serving Lhasa, this is by far the easiest and quickest way of getting to Tibet. Travelers coming from Europe or the Americas often fly into one of China's major cities, then catch a flight to Tibet from there. Non-stop flights are available from cities such as Chengdu, Chongqing, and Xi'an while cities like Beijing, Shanghai, and Guangzhou offer flights to Tibet with only one stop. There are flights from Kathmandu to Lhasa at least twice weekly; travelers will need to check with their travel agency for the latest schedules.
Arrive or depart by train: Many travelers planning a Tibet tour are excited for the opportunity to ride the Qinghai-Tibet Railway! Along the way, travelers will see beautiful mountain scenery and the expansive Tibetan Plateau. From cities like Beijing and Xi'an, the train ride can be up to 48 hours long. Since the most scenic part of the train ride is between Golmud and Lhasa, many travelers choose to board the train in Xi'ning.
Arrive overland: Travelers coming from Nepal often enjoy taking the friendship highway from Kathmandu to Lhasa. Unlike other ways of travelling to Tibet, the overland route gives travelers a window into every day Tibetan life as they pass through towns and cities. There are many opportunities to stop for pictures of the scenery and learn about Tibetan culture at temples and Monasteries.
There are pros and cons to each method of transportation. To make the best decision possible travelers will need to consider their schedule, budget, and travel interests! Flying may be quick and easy but travelers miss out on the scenery in between. When taking the train, there is a trade off between cost, comfort, and time; those on a tight schedule may be best off flying into Tibet. Coming overland is certainly a fantastic experience, but travelers must fairly compensate their driver for time and fuel costs. With summer in Tibet right around the corner, its time to start weighing the options and planning a tour! For detailed information on transportation to and from Tibet, travelers can contact Tibet Ctrip Travel Service-TCTS (http://www.tibetctrip.com).
Devin Moore provided this news release on behalf of local Tibet tour agency TCTS (tibetctrip.com). Devin is a travel writer and independent economic analyst based in Springfield, Missouri USA. His economic research is currently focused on airfare pricing. Devin Moore works to spread awareness of Tibet and its people through publishing Tibet travel information.