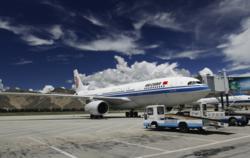 How to get to Tibet? by plane? by train or by driving?
(PRWEB) April 04, 2013
How to get to Tibet? A question that, at one point or another, confronts all who travel Tibet. Whether a traveler comes from Europe, the Americas, Australia, or anywhere else there are a variety of ways for to enter Tibet. One of the most popular ways for foreign travelers to enter Tibet is by air, however many travelers coming from Nepal choose to enter Tibet overland. Also, for those who have a more flexible schedule, arriving and/or departing Tibet by train can be a great way to see fantastic scenery that many travelers miss out on. To help travelers make informed travel decisions, Tibet Ctrip Travel Service-TCTS, one local Tibet travel agency announced a new release about the different options:

Arrive by air: Daily flights serve Lhasa from a variety of cities in Mainland China and there are flights to Kathmandu at least twice a week. Direct flights are available from cities like Chengdu, Chongqing, and Xi'an. Flights from cities like Beijing, Shanghai, and Guangzhou make stops before continuing to Tibet. With several flights a day, Chengdu has the most convenient schedules for flights to Lhasa. Many foreign travelers choose to purchase an air ticket to China that arrives in Chengdu, allowing them to depart for Lhasa the next.
Arrive or Depart by Train: For travelers with the extra time on their hands, the train can be a great way to see a wide cross section of Tibet that most travelers don't get to see! The Qinghai Tibet Railway is the highest altitude railway in the world; it runs across the Tibetan Plateau and through mountains of unmatched beauty. Since it takes around 48 hours to ride the train from several of China's major cities, many travelers choose to board the train in Xi'ning (located in Qinghai province).
Arrive overland: The most popular overland route is from Kathmandu to Lhasa. The overland journey gives travelers a window into daily Tibetan life as they pass through towns along the Friendship Highway that runs all the way to Lhasa. Travelers on this overland route will have opportunities learn about Tibetan history and culture as their native Tibetan guide accompanies them to temples and monasteries!
There are a variety of ways to get to Tibet. Travelers on a tight schedule will be best off arriving by air; TCTS can help arrange flights from China and Kathmandu. Those with a more relaxed schedule may want to consider taking the train or coming overland from Nepal. To maximize the value of any Tibet tours, travelers will need to consider their schedule, budget, and interests when choosing a method of transportation. TCTS welcomes any and all questions about the best way of arriving in Tibet. With the Tibet travel season upon us, travelers are advised to start planning their tour now!
Devin Moore provided this news release on behalf of local Tibet tour agency TCTS (tibetctrip.com). Devin is a travel writer and independent economic analyst based in Springfield, Missouri USA. His economic research is currently focused on airfare pricing. Devin Moore works to spread awareness of Tibet and its people through publishing Tibet travel information.