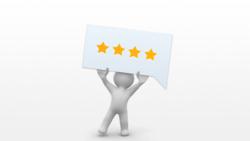 Wichita, KS (PRWEB) June 07, 2013
Reviews are something most people know to check before making a major purchase, but not everyone knows what to look for or how to interpret them. Mattress Journal, a blog on the bedding industry, recently produced a guide for consumers to use when mattress shopping, though the information provided has relevance to other products as well.
Titled "How to Use Mattress Reviews", the article offers advice on how to find reviews as well as how to apply the information they contain when comparing products. The article also details specific things to look for in reviews and offers an example comparing actual beds.
The first part of the guide looks into the best sources for consumer reviews. While retailer and brand websites are a good place to locate reviews, Mattress Journal also suggests review websites, social networks, and consumer publications, with information on determining credibility offered as well. An important distinction is drawn between reviews, testimonials and verified reviews as well, with the latter offering the greatest credibility when verification is provided by an independent third party.
Mattress Journal goes into greater detail in the second section, which explains specific strategies consumers can use to make their searches more efficient. These include determining what is desired from the new mattress or what the shopper hopes to correct, and narrowing potential candidates by type and budget before diving deeply into reviews.
Five key points Mattress Journal suggests readers look for in reviews are trends of similar complaints and compliments, issues with durability or buyer's remorse, information about the retailer's operations, and how the specific mattress reviews compare to averages (which are also included in the article). They recommend against relying on mentions of comfort in reviews since this aspect of beds proves highly individual.
The article concludes with an example comparing three models of memory foam mattresses, each representing a different type and all slightly over $1000. Three models from Amerisleep, Tempurpedic and Serta iComfort are compared on the beds themselves as well as average reviews, percent of consumers who would recommend, review trends and whether or not reviews are verified. Among these, the Amerisleep Liberty memory foam mattress had the highest average reviews and recommendation rates, a third-party verified reviewing system, and the lowest price, highlighting the beneficial information that consumers can glean from analyzing mattress reviews.
MattressJournal.com offers the latest bed news and mattress reviews to help shoppers research purchases and get the best sleep possible. Through careful, independent analysis of mattress types, brands, and sleep research, the blog offers expert opinions in readable, relatable format. With a focus on making the buying process simpler, Mattress Journal proves a valuable resource for consumers.