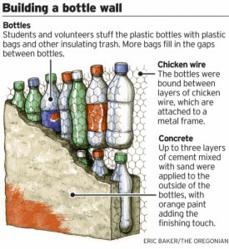 We love HugItForward.org because of their commitment to children in Latin America.
Phoenix, AZ (PRWEB) August 15, 2012
Clever Investor, a company that teaches investors how to invest in real estate, is owned and operated by Cody Sperber. Clever Investor has established a world-renowned real estate investment training program where Mr. Sperber and his team of real estate investors believe in empowering people to make the best real estate investment return possible. Sperber also believes in paying it forward and has recently announced a sizable company contribution in support of a grassroots organization that facilitates education awareness in Latin America.
The charitable organization HugItForward.org utilizes a unique and cost effective form of construction with "eco" bricks. Eco bricks are regular, empty two liter, plastic bottles that are stuffed with inorganic trash. Entire communities work together to gather needed materials and help construct large class rooms that would other wise be non existent. The eco friendly building designs allow for the cost of each large sized classroom to stay around $5,000. Within the past three months 19 schools have been completed. The concept is simple enough that everyone in the community can participate in each construction project. Clever Investor understands the value of education and the difference an opportunity for education can make for all individuals. HugItForward.org also uses resources to encourage communities all around the world to utilize the bottle school technology to create educational opportunities for all people.
Recently featured in O, The Oprah Magazine (August 10, 2012) Zach Balle of Phoenix Arizona describes why he felt the need to start something that would make a difference for those who live in impoverished circumstances. Balle had experienced a successful real estate career and was in search of more meaningful fulfillment. He followed advice from a business colleague who suggested Balle visit a country he had never traveled to before. Balle ended up in Guatemala where he noticed that many children were being taught each day outside. Balle noted that if it rained or there was otherwise inclement weather then class would be cancelled for the day. He decided he wanted to build classrooms for those deserving people. Upon researching his options he learned of this method of construction that transforms regular trash into useful building bricks.
Cody Sperber and his team at Clever Investor are inspired by the grassroots effort of HugItForward.org. Join the real estate training program with Clever Investor and be a part of making a positive difference in the educational opportunities of children in Latin America. For more information about Cody Sperber and his real estate investment training opportunities visit the website at http://www.cleverinvestor.com. Contact through email via support(at)cleverinvestor(dot)com and by telephone at 888-480-6617