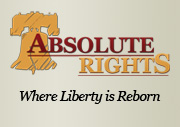 Unfortunately, it often takes natural disasters for people to fully realize their vulnerability to clean water supplies.
Austin, TX (PRWEB) July 02, 2012
People who have thought "How is water cleaned?" and not had the slightest idea of the answer are not alone, according to today's AbsoluteRights.com article. Millions of people across the globe don't think twice about the fragility of clean water supplies, it added.
Absolute Rights has published a Special Report to show people exactly how to clean water. It's called "170 Gallons a Day: How to Clean Any Water—Even Urine—to Store, Drink, or Cook With After a Disaster."
The Special Report gives the general knowledge needed to purify the dirtiest water and store it for extended use, said the article. It helps people avoid rookie mistakes and false assumptions that can unintentionally worsen the quality of water.
In a Third World country, people may have a better understanding of the process. Potable, healthy water isn't as easy as turning on the faucet for people in those parts of the world, but in the United States we don't give it much thought, said the article.
Unfortunately, it often takes natural disasters for people to fully realize their vulnerability to clean water supplies. In times like those, the stores run out of bottled water, the faucets stop running, and the article said there's a desperate need to make use of purification methods.
Even though natural disasters are usually the cause of major contamination, the article said everyday water can be riddled with pollutants, a fact that escapes most Americans.
"170 Gallons a Day" covers the very best survival water filters, which can easily be incorporated into any household water system easily and efficiently. It suggests store-bought systems that work like a charm, as well as homemade processes that can be constructed without any previous experience.
By following the guidance from Absolute Rights and its team of survival experts, the article said people will gain the power and the knowledge to overcome any potential dangers hidden in their water. They'll have supplies to last months and provide safe water for their families.
Absolute Rights informs patriotic Americans on their given rights, plus helps protect those rights from government or disaster intrusion. Most importantly, it prides itself on alerting people when their rights are being threatened, creating an active and informed community. For more information, be sure to visit AbsoluteRights.com.
The Special Report is guaranteed to help anyone ensure the water they drink, cook with, and store is as safe as possible. The article said without this kind of information, many people will be unknowingly exposed to serious health risks. "170 Gallons a Day" won't let that happen by showing how water is cleaned in surefire ways.