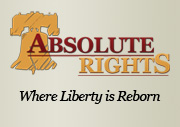 Using simple processes, the Special Report shows people how to ensure their H2O is free of any harmful substances.
Austin, TX (PRWEB) June 27, 2012
Anyone can learn how to clean water and make it safe to drink, cook with, and bathe in, said today's AbsoluteRights.com article. This may not seem like a common concern, but if a disaster occurs, potable water is one of the first supply lines to be affected. And the article pointed out that everyone knows how fast bottled water can fly off the grocery store shelves in times of need.
"170 Gallons a Day: How to Purify Any Water—Even Urine—to Store, Drink, or Cook With After a Disaster" is a 26-page Special Report, offered by Absolute Rights. It filters all the most useful information on water purification and provides the most vital pieces of advice on producing unlimited drinking water, said the article.
Floods, hurricanes, and even disease epidemics can contaminate a water supply so badly that people affected would be better off going without it, the article said. That, however, isn't possible; a mere three days without clean water spells death. Thanks to Absolute Rights and their Special Report, people won't have to worry about their supplies running out anymore.
Any reader of the Special Report an instant expert in supplying their own water that's safe enough for anything and anybody, said the online article.
There is any number of disgusting bacteria, viruses, and other contaminants in dirty water that cannot be detected with the eyes or nose, but threaten the health and lives of anyone who drinks it. The article said knowing how to rid water of these threats is easy once Absolute Rights' expertise is soaked up.
Following the directions and advice in "170 Gallons a Day" guarantees a safe and affordable way to use homemade water filtration systems, said the article.
What's most pressing, according to the article, is the fact that water quality doesn't necessarily need a disaster to become contaminated. Whether we know it or not, there are measurable levels of pollutants and contaminants in every drop that comes out of our faucets, they just may not be "scientifically proven" to pose a health threat.
That's why Absolute Rights is offering "170 Gallons a Day," which not only guides people in numerous purification and distilling techniques, but also provides strategies for storing clean water. Using simple processes, the Special Report shows people how to ensure their H2O is free of any harmful substances.
Absolute Rights informs patriotic Americans on their given rights, plus helps protect those rights from government or disaster intrusion. Most importantly, it prides itself on alerting people when their rights are being threatened, creating an active and informed community. For more information, be sure to visit AbsoluteRights.com.
Water is a life-giving source, and the article said it can often be taken for granted by the uneducated. Learn the details behind what comes out of the tap, and then get access to "170 Gallons a Day" to find out how to clean water.