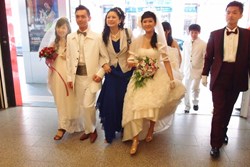 No one is born to be a natural wife or husband. Failures do not mean you cannot learn how to be a better wife or husband and try again.
(PRWEB) September 26, 2013
Last month, number one bestselling author and relationship expert Hellen Chen presided over yet another wedding ceremony as the result of her passionate work -- getting men and women to tie the knot.
However, the work which led up to this special wedding ceremony has been of 16 years in the making.
16 years ago, a mother by the name of Irene was going through a messy divorce and with her 4-year-old daughter in tow, she went to see Chen to ask how to resolve her marriage problems.
Irene's spouse had decided to divorce her over another woman. Irene felt her world shattered. She had no self-confidence and would not consider herself worthy of marriage or any relationship. Having been dependent on her ex-husband all her life, she felt she had no skills to start a new life over again.
Little did Chen know that her extend of hand to help Irene would turn into a 16 year story, which affect the lives of two women drastically.
Chen worked with Irene painstakingly and gave her the courage to leave the messy relationship behind and focus on finding her own feet.
At the same time, the matchmaker spared no effort to encourage her to date and get to know new suitors. Several years later, Irene found courage to get married again.
"I thought my life was ruined after my divorce. I was penniless and in my mind, I was literally a nobody. Hellen saved my life. She also did an incredible thing for our family. She unconditionally helped my daughter Eva," said Irene, who has been married for 6 years now.
Her 4-year-old daughter grew up amidst the divorce to despise her mom and was constantly fighting with her stepmom as her father married again.
Chen waited patiently for Eva's turn of heart as she befriended her.
At the same time, Chen slowly taught Eva about her own responsibilities and helped her to mend her relationship with her divorced parents. Eva was able to finally come to terms about the separation and she no longer viewed her mom as a failure but someone she would care for and love, no matter what her actions had been.
Last month, a grown-up Eva stepped onto the red carpet with the man of her dreams. Her matchmaker was none other than Chen.
"It brought tears to my eyes," said Chen. "Very often, situations might not go the way we want. Break-ups and estranged relationships would often make one forget that true love exists. But look harder, you will see love right in front of your eyes."
Chen has been interviewed by over 200 radio, TV networks and publications in 18 countries about her family and relationships advices for men and women. Unlike traditional matchmakers, she has often worked with men and women who have given up on love. Thus she is also lovingly called the "Matchmaker of the Century" and her book of the same title has become a number one relationship bestseller on Barnes and Noble.
"There has been a lot of emphasis on achievements in careers and in schools. There is nothing wrong with that. At the same time, let's ask ourselves, if it is time for us to leave this world, would we regret not having worked that extra day in the office or make that extra dollar? Or would we regret not having love someone more when we could?" Chen added.
"No one is born to be a natural wife or husband. Failures do not mean you cannot learn how to be a better wife or husband and try again," said Chen.
To bring her message about finding happiness in relationships, Chen traveled around the world and also actively held love workshops to teach singles and couples how to improve the quality of love in their life.
Her next love workshop will be held on Oct 12 in Los Angeles. Details are found on http://MatchmakerOfTheCentury.com.