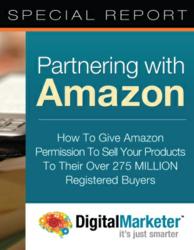 Judging by Wal-Mart's response, Amazon is literally shaking the retail industry foundation.
Austin, TX (PRWEB) March 27, 2012
Understanding how to sell information in the most cost-effective ways makes running a business a pleasing experience. Digital Marketer's newest Special Report, "Partnering with Amazon: How to Give Amazon Permission to Sell Your Products to their Over 275 Million Registered Buyers" shares vital information on the process, according to today's Digital Marketer article located on DigitalMarketer.com. Amazon's power is so vast that even the country's biggest retail center is feeling threatened.
The article referred to this March 2012 Bloomberg.com piece about Amazon's competition with Wal-Mart, which has driven the brick-and-mortar super store to aim for increased online shopping capabilities. Kantar Retail, a consumer data research firm, conducted research on why Wal-Mart is losing business to Amazon, and to what extent. In a span of five years, the number of Wal-Mart customers that also use Amazon doubled.
A spokesperson for Kantar said that "Amazon has moved from being this unusual niche competitor for Wal-Mart to a force that can reinvent the industry. Young people are tech savvy and they're unemployed, too. The affluent shopper is trading back out of Wal-Mart and Amazon is a bigger part of their life than before."
Judging by Wal-Mart's response, Amazon is literally shaking the retail industry foundation. With one click, customers can have exactly what they searched for delivered straight to their door the next day, the Digital Marketer article said.
By learning how to publish content on Amazon, businesses will make a bigger impact on profits. "Partnering with Amazon" makes it simple to create, format, and submit content for sale. No matter what kind of information there is to share, Amazon is more than happy to make it available to its vast collection of paying customers, said the article.
Publishing and selling information on the undisputed e-commerce king's website not only increases sales, but it puts a business at the forefront of their industry. The instant semblance of expertise and command over a subject will go miles in the credibility department.
The Digital Marketing Labs are devoted to providing innovative and cutting-edge techniques for increasing marketing effects. The group of industry experts works to promote brands, businesses and personalities with the most success.
The article said entrepreneurs can start cashing in immediately by making content available to the credit-card holding users of Amazon.com. Learn how to sell information with "Partnering with Amazon," and share it with the entire World Wide Web.